NDT Testing
NDT Services Won't Harm Samples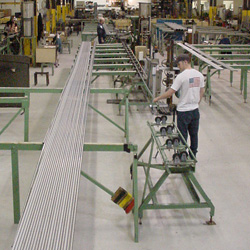 NDT testing and inspection, which is are shortened forms of Nondestructive Testing, are processes used to locate internal and external flaws or inconsistencies in materials or products without damage to the test pieces. NDT inspection is also used to detect corrosion or to evaluate welds for Welder and Procedure Qualification. Laboratory Testing Inc.'s one-stop NDT services lab provides a complete array of nondestructive testing methods including:
LTI's facility and equipment are fully capable of handling and inspecting long, large and heavy products. Our spacious NDT testing departments, high-capacity cranes and forklifts, and NDT inspection equipment capable of testing large dimension test samples allow for routine NDT testing of a wide-range of products such as tubing, pipe, bar, plates, castings, fasteners and other machined parts. Large-volume orders and oversized samples are easily accommodated. Metals are our specialty, but some NDT testing methods can be performed on other solid or nonporous materials too.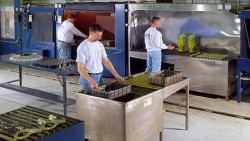 Accreditations & Certifications
Our NDT services are accredited by PRI/Nadcap and comply with ISO/IEC 17025, ISO 9001 and ISO 13485 requirements. Inspectors in our NDT testing lab are certified to ASNT SNT-TC-1A, NAS410/MIL-STD-410, MIL-STD-2132 and Pratt & Whitney PWA-NDTQ and follow stringent quality procedures to assure dependable results with testing that meets industry requirements. All NDT inspection results are evaluated by our certified NDT Level II and Level III technicians.
---
Additional NDT Services to Complete Your Needs
Laboratory Testing Inc. offers many additional services to meet your complete NDT inspection needs, from material preparation to special packaging and delivery:
Receipt inspection
Cutting, trimming and deburring
Material identification

Line marking
Stenciling
Electrochemical etching

Packaging and shipping in accordance with ANSI N45.2.2 or customer specifications