Dye Penetrant Inspection
Visible Dye & Fluorescent Penetrant Inspection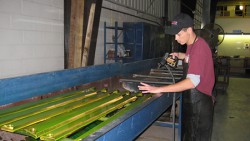 Dye penetrant inspection, also called liquid penetrant inspection, is a dependable, harmless method of finding near-surface flaws in products and parts. Dye penetrant inspection can be successfully performed on products made of non-porous materials such as metal and glass.
Laboratory Testing Inc. performs liquid penetrant inspection to ASTM E1417 and offers two types of inspections:
Visible dye penetrant inspection
Fluorescent penetrant inspection
These examinations are performed by first coating clean test pieces with either a fluorescent dye or visible dye penetrant. The pieces are left to sit, allowing the penetrant to have appropriate dwell time to soak into the flaws. After rinsing the test pieces, penetrant is visible only in the areas with flaws or defects. It is important that dye penetrant inspection be performed on products with a non-porous surface since the dye penetrant should only soak into the flaws and not the surrounding material.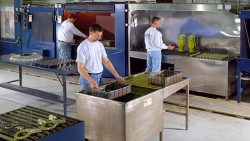 LTI's liquid penetrant inspection department is capable of inspecting products up to 25 ft. long such as pipe, tubing and barstock. Our lab is equipped with three large penetrant dip tanks, a 25 ft. dwell tank and a large inspection room with three high-intensity black lights for viewing the fluorescent dye penetrant. We routinely perform both fluorescent penetrant inspection and red visible dye penetrant inspection. Only high-quality Magnaflux materials are used to perform all types of liquid penetrant inspection. Both water-washable and post-emulsifiable fluorescent penetrants in sensitivity levels 2, 3 and 4 are available to meet your specification or application.
Dye Penetrant Inspection Summary
Inspection Methods – fluorescent penetrant inspection; red visible dye penetrant inspection
Size Limitations – products up to 25 feet in length
Product Requirements – non-porous surface
Inspection Supplies – Magnaflux brand
Test Specification – ASTM E1417
Contact LTI for pricing on your specific inspection requirements or for more information on our capabilities.