Radiographic Testing
See Below the Surface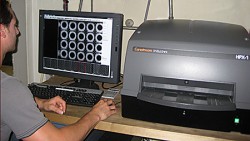 Radiographic testing, also known as radiographic inspection or radiographic examination, uses X-rays to penetrate the surface of products or materials in order to view internal components. Like all nondestructive testing, radiographic inspection does not harm the test piece. Radiographic testing can be quite useful in locating internal discontinuities such as shrinkage, cracking and porosity, verifying the integrity of internal components and determining the quality of welds. This process can be performed on many types of solid products and materials and is often useful in fire investigations to help determine the source.
Radiographic examination can be performed at Laboratory Testing Inc. in either of two ways, depending on the needs of our customer. While the processes are basically the same, they differ in the type of output that is produced:
Computed Radiography – digital images
Conventional Radiography – film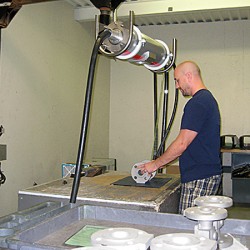 Conventional radiography creates a permanent visible film record and meets the requirements of specifications for certain industries. Computed radiography provides the digital equivalent of the conventional X-ray film, with the added advantages of easy sharing and storage of images.
Most radiographic testing performed at LTI takes place in our 20 ft. x 20 ft. radiographic inspection vault with X-ray equipment that can penetrate metals, plastics and other solid materials of varying thicknesses. This arrangement, along with our high-capacity forklifts and 3-ton crane, allows for the radiographic testing of large products and materials. Our conventional and computed radiography capabilities also include small product inspection such as electronic assemblies using a special X-ray camera in a small cabinet unit.
Radiographic Testing Summary
Inspection Methods – computed radiography; conventional radiography
Size Limitations

products fitting into our 20 ft. x 20 ft. radiographic inspection room
imaging equipment penetrates up to 4 1/2 inches
very small items can be accommodated in our cabinet radiography unit

Product Requirements – test samples must be made of solid materials
You can quickly get pricing or more information with our RFQ and Contact Us forms.