Ultrasonic Inspection
Identify Defects and Discontinuities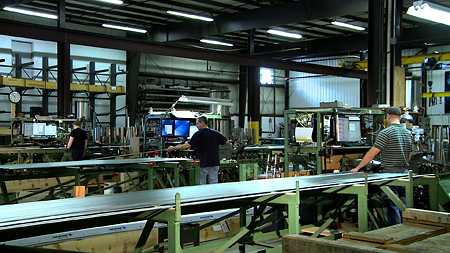 Ultrasonic Inspection, also known as UT Inspection, is a reliable method of detecting defects on or below the surface of materials, and discontinuities in the wall thickness of tubing, pipe and other round stock. Ultrasonic inspection services provide valuable test results without harming your material during the inspection process. Laboratory Testing Inc. performs ultrasonic inspection services on two work shifts to meet our customers' turnaround needs. The Lab's capabilities include high-speed immersion UT inspection for round material, an immersion tank for inspecting oversized materials and contact ultrasonic inspection for products and materials in other shapes and sizes.
Round stock from 1/8 in. to 6 5/8 in. diameter to 70 ft. long is inspected by our five high-speed immersion ultrasonic inspection lines.
Oversized round material with a diameter to 24 in., length to 16 ft. and weight to 3000 lbs. is inspected in our A, B, and C scan immersion UT inspection tank.
Flat material up to 4 ft. wide, 16 ft. long and under 3000 lbs. is also inspected in our immersion UT tank.
Other materials are inspected by contact UT.
Our three high-speed immersion ultrasonic inspection lines and the immersion tank are all computerized for paperless chart recording and file retention. An extensive inhouse library of reference standards for tube, pipe, bar and plate allows efficient order processing.
LTI is PRI/Nadcap accredited for ultrasonic inspection services. NDT Level II and Level III inspectors and an NDT MIL-STD-2132 Examiner for both immersion and contact ultrasonic inspection are on staff. Our technicians are certified to ASNT SNT-TC-1A, NAS410/MIL-STD-410, MIL-STD-2132 and Pratt & Whitney PWA-NDTQ to meet your industry requirements.