New Customers
We're Here For You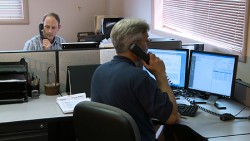 Although our customers' needs for materials testing and calibration services vary greatly, accuracy, convenience and reliability are common requirements. Regardless of your reason for using our services or the frequency of need, our priority is getting certified results to you when you need them. You'll find links below to everything you need for quick and convenient order processing.
It's Easy to Set Up an Account
New Account Forms
Return forms either directly to your Sales Representative, by email to cif@labtesting.com or by fax to 800-219-9096.
Information at Your Fingertips
Laboratory Testing Inc. offers a broader range of services than most labs, including metals testing, material analysis, test specimen machining, failure analysis, dimensional inspection and calibration services. Find out details about our service capabilities, turnaround and more.
Visiting Our Facility
Customers are invited to visit our facility and meet the chemists, engineers and technicians that process orders. A tour can be arranged with your Sales Rep.
Shipments & Deliveries
Testing & Machining – Samples or materials for testing or specimen machining can be shipped or delivered to our main facility at:  Laboratory Testing Inc., 2331 Topaz Drive, Hatfield, PA 19440
All common carriers deliver on a regular basis. We have two loading docks, a drive-through bay, high-capacity forklifts and overhead cranes that safely handle long, large and heavy items weighing up to three tons.
Calibration – Instruments requiring calibration can be shipped or delivered next door to:  LTI Metrology, 2321 Topaz Drive, Hatfield, PA 19440.
Terminology & More
Learn more about testing & calibration services. Also save our conversion charts for handy reference.
Service & Turnaround Guidelines
Save yourself time and questions by clicking our easy Guidelines for RFQs, POs, Sample Sizes, Shipping and Value-added Services.
Contact Us Anytime
If you don't find what you're looking for, give us a call or send an e-mail. We're here to take care of all your order needs.
Sales/Customer Service
There may be times you need the knowledge of another specialist. Click here for a list of all LTI contact employees, including Quality Assurance, Testing, Calibration, Machining and Shipping/Receiving.