Purchasing Professionals
Resources at Your Fingertips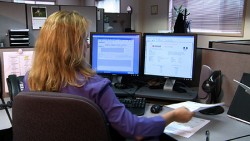 Whether you're researching testing or calibration vendors, inquiring about capabilities or placing an order, Laboratory Testing Inc. will help make your work hassle-free. We have everything in place to get you easy answers and fast quotes. You'll find information and links below to help process your orders quickly and conveniently.
Purchasing Information
Laboratory Testing Inc. (LTI) offers a broader range of services than most labs, including metals testing, material analysis, failure analysis, test specimen machining, dimensional inspection and calibration services. Find out more about our services and other capabilities.
New Account Forms
If you'd like to arrange for credit, please complete all of the business, bank and reference information on our Customer Information/Credit Application below. Until your account is set up, you can pay for orders by check or credit card. Please call us with your credit card information or complete the Credit Card Application below to charge your payment.
Guidelines for Best Service & Turnaround
Save yourself time and questions with our easy Guidelines for RFQs, Purchase Orders, Sample Sizes, Shipping and Value-added Services.
Placing Orders with LTI
Purchase Orders
Purchase Orders can be faxed to Sales/Customer Service in advance at 800-219-9096, e-mailed to your Sales/Customer Service Rep or enclosed with your order.
Shipments & Deliveries
Samples or materials for testing or specimen machining can be shipped or delivered to our 66,000 sq. ft. facility at Laboratory Testing Inc., 2331 Topaz Drive, Hatfield, PA 19440. All common carriers deliver on a regular basis. We have two loading docks, a drive-through bay, high-capacity forklifts and overhead cranes that will safely handle long, large and heavy items weighing up to three tons.
Instruments requiring calibration can be shipped or delivered to our division next door at LTI Metrology, 2321 Topaz Drive, Hatfield, PA 19440.
Terminology & Methods
Learn more about testing and calibration services with these easy reference materials.
Accreditation Certificates
A2LA
PRI/Nadcap
Nadcap provides expiration dates and current scopes at www.eAuditNet.com. Click here for instructions to access the information.
Contact Us Anytime
If you don't find what you're looking for, give us a call or send an e-mail. We're here to take care of all your order needs.
Sales/Customer Service
Account Sales ManagerRick Heist
215-716-7157
There may be times you need the knowledge of another specialist. Click here for a list of all LTI contact employees, including Destructive Testing, Nondestructive Testing, Calibration, Machining and Shipping/Receiving.