Dimensional Calibration
Master, Tool and Gage Calibration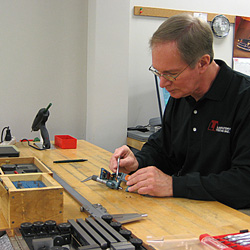 The calibration lab at Laboratory Testing Inc., known as LTI Metrology, has been serving varied industries with dimensional calibration services and certified reporting for years. LTI Metrology is a leading, full-service calibration lab with the credentials and services to assure your measuring hand tools and instruments measure precisely and efficiently. Our dimensional calibration services include tool calibration for a variety of measuring hand tools from calipers and stop watches to angle plates and irons, as well as micrometer calibration, gage calibration, and calibration of masters and standards.
Dimensional calibration is performed by comparing the performance output of a gage, hand tool or measuring instrument with a measurement standard to confirm that the item produces results which meet or exceed that standard's criteria. The details of these results are clearly reported on your Calibration Certificate, along with as found" and "as left" conditions, our NIST-traceable standards and A2LA accreditation, complete calibration results and any adjustments or repairs made during dimensional calibration. The varied list of items that we calibrate dimensionally and mechanically includes:
Masters & Standards
Gage Blocks to 20 inches
Length Standards/Micrometer Standards to 120 inches
Pitch Micrometer Standards
Profilometer Standards
Surveillance Masters
Thread Set Plugs
Thread Wires
Tool Calibration
Amplifier
Angle Plate/Angle Iron
Balls
Calipers (Dial, Digital, Vernier)
Footage Counters
Gauss Meter/Magnetometer
Indicators (Dial, Digital, Dial Test, Coaxial, Mikrokators)
Levels (Mechanics, Machinists, Precision, Tilting)
Micrometers

Bench, Bore, Depth, Groove, Head
Inside, Outside/Pipe/Uni/Point
Thread Pitch, Vee
Supermicrometers

Microscope
Optical Flats, Overlay, Parallel
Parallels
Penetrameters (Radiographic)
Profilometer
Protractors
Rules
Seive
Sine Bar, Plate, Vise
Squares (Combination, Cylindrical Square/Tapered, Machinist Steel)
Stop Watch
Straight Edge
Tape Measure
Gage Calibration (Gauge Calibration)
Bore Gages
Center Gages
Chamfer/Countersink Gages (Dial, Micrometer-type)
Density Meter Calibration
Depth Gages (Dial, Digital)
Durometer Calibration
Durometer Test Standard
Feeler Gages
Height Gages (Dial, Digital, Vernier)
Pin Gages
Planeness Gage Set
Plug Gages (English, Metric)

Pipe Thread (1-step, 3-step)
Plain Cylindrical (Classes Y,Z,X,XX)
Plain Reversible Cylindrical
Thread/NPSM (Setting, Standard, Working)

Radius Gages
Ring Gages – Set Plug Inventory

Adjustable Thread
Pipe Thread
Plain Cylindrical, Plain Taper
Thread Setting

Screw Pitch Gages
Snap Gages (Go/No-Go, Indicating/Snap)
Telescoping Gages
Thickness Gages (Dial/Pocket/Paper, Coating Thickness, Ultrasonic, Wet Film)
LTI calibrates threaded ring gages and has an inventory of over 750 master set plugs. If you don't have the one needed to calibrate your ring gages and we don't have it in inventory, we can help you purchase the proper set plug through our relationship with manufacturers. Review our inventory of Calibration Set Plugs.
LTI Metrology is located in the Philadelphia area of Pennsylvania (PA) and provides pick up and delivery of orders within 60 miles of our facility at no additional charge. Dimensional calibration and repair of many instruments can also be performed by our field technicians onsite at your company to minimize downtime.
The dimensional calibration technicians at LTI Metrology work with state-of-the-art equipment to provide accurate, timely and affordable tool calibration, gage calibration and reports. LTI Metrology provides much more than flow calibration. We are a full-service laboratory, offering repairs, replacement parts, new instruments and a complete menu of calibration services. In addition to dimensional calibration, LTI Metrology provides pressure, torque, force, electrical, temperature, mass and vacuum calibration services. For a detailed list of our full-service calibration capabilities, see our Instrument Calibration page.