Electrical Calibration
Oscilloscope, Tachometer, Multimeter Calibration and More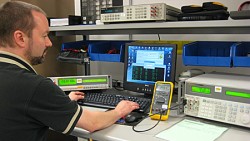 For convenient electrical calibration, also called electronic calibration, of meters and other instruments, LTI Metrology is your reliable source. Our range of services includes multimeter calibration, oscilloscope calibration, tachometer calibration and electronic calibration of many other meters and instruments with DC and AC voltage, DC and AC current and DC resistance. Electrical calibration is performed by highly trained technicians and high-tech equipment to provide results that will give you confidence in the capabilities of your electronic instruments.
LTI Metrology is the calibration lab at Laboratory Testing Inc. and has been supplying varied industries with calibration services and certified reporting for many years. Accuracy, affordability and timeliness drive our policies and procedures. All the information you need will be reported on your Calibration Certificate, including NIST traceability, A2LA accreditation, applicable industry standards and detailed documentation of results. We provide recall notifications when your instruments are due for re-calibration.
The Electrical Calibration Process
LTI Metrology has individual documented procedures that are followed for each make and model of instrument receiving electrical calibration to insure standardized testing. The instrument manufacturers' "accuracies", generally stated as a percentage of the measured value, have been written into each procedure.
Fluke equipment and MET/CAL software provide automated calibration and recording of results. Calibration Certifications are generated directly from the Fluke MET/CAL database for accurate reporting of results. Electronic calibration of instruments that read AC/DC voltage, AC/DC amperage, frequency, resistance and capacitance is performed using a Fluke 5520A. The electrical calibration technicians work with a Fluke 8508A for instruments that output AC/DC voltage, AC/DC amperage, frequency and resistance.
LTI Metrology Capabilities
Ammeter Calibration (Clamp-on)
Calibrator Calibration

Hand-Held
Transmation
Other Models from Leading Manufacturers

Clamp Meter Calibration
Contour Probe Calibration
Decade Box Calibration
Documenting Process Calibrator
Frequency Counter Calibration
High Resistance Meter Calibration
Hy-Pot Calibration
Light Meter Calibration
Megohmmeter Calibration
Multimeter Calibration
Oscilloscope Calibration
Power Supply Calibration
RCL Meter Calibration
Shunt Calibration
Standard Resistor Calibration
Tachometer Calibration / Stroboscope Calibration
Tong Meter Calibration
LTI Metrology is in the Philadelphia area of Pennsylvania (USA). If your facility is located within 60 miles of our Hatfield, PA location, we can pick up and deliver your orders at no additional charge. Ask about our other calibration services too for dimensional, pressure, torque, force, temperature, mass and vacuum instruments. You can be confident that your needs are a priority when working with LTI Metrology, your one-stop lab for calibration.