Force Calibration
Load Cell, Force Gauge Calibration and More
Instruments such as dynamometers, force gauges and load cells are dependent on accurate force calibration in order to consistently deliver their specified performance. LTI Metrology, the calibration lab at Laboratory Testing Inc., provides a wide-array of calibration services, including force calibration. Force gauge, dynamometer and load cell calibration are performed on equipment with capacities to over 100,000 LBF of tension and compression. Our force calibration and other calibration services are NIST traceable and A2LA accredited to ISO/IEC 17025. LTI Metrology has earned a reputation as a leader in calibration services and certified reporting due to our track record for dependable results, reasonable turnaround, affordable pricing and extensive list of services.
All results from your force calibration service will be clearly detailed in a Calibration Certificate, a report covering as found" and "as left" conditions, NIST-traceability, A2LA accreditation, complete calibration results and any adjustments or repairs made during calibration services. Expedited service is available when you need your calibration results faster than our standard turnaround. Our lab offers pick-up and delivery service at no additional charge for customer orders within 60 miles of our facility.
The Force Calibration Process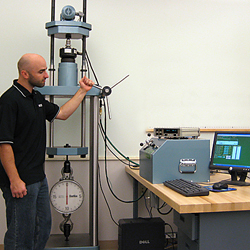 Force calibration is performed in one of two ways at LTI depending on the weight capacity of the equipment being tested. Often times, equipment with a capacity below 500 LBF will be calibrated using a hand-held dead weight test for tension and compression. Instruments over this weight capacity are generally tested on a computerized force calibration machine with a capacity of 100,000 LBF. Force transducers in three ranges are available for use.
The first step is exercising the customer's equipment to be sure it is in working order for the process to follow. Next, the appropriate equipment is selected and the standard is set. A 5 point calibration will be run for most instruments at every 20 percent of capacity, although a higher accuracy instrument will require 10 points at 10 percent of capacity.
LTI Metrology Capabilities
Force Calibration from 0 to over 100,000 LBF
Dynamometer Calibration
Force Gauge Calibration
Load Cell Calibration
LTI Metrology, is located in Hatfield, Pennsylvania (USA) in the suburbs of Philadelphia, PA. As a full-service calibration laboratory, we hope you'll enjoy the convenience of working with one source for all of your calibration needs. Any easy-reference list of Calibration Services & Instruments Calibrated is available on our Resources page.