Humidity Calibration
Psychrometer, Recorder, Hygrometer Calibration & More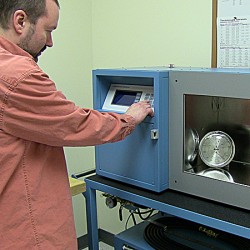 Humidity calibration is a necessity for keeping humidity-reading instruments operating reliably and within accuracy specifications for a reasonable length of time. Humidity is a major environmental factor in many processes and manufacturing facilities, therefore, maintaining reliable instruments for the accurate measurement of relative humidity is critical for quality control.
LTI Metrology, the calibration lab at Laboratory Testing Inc., provides humidity calibration services for instruments through our approved supplier. For customer convenience, we will subcontract orders for humidity calibration for our customers who purchase other services provided by our laboratory. To save time on orders that require an outside vendor, please include a note on your purchase order giving LTI Metrology permission to subcontract. A Calibration Certificate is provided for each item calibrated with full details of the work performed.
Approved Supplier Capabilities
Hygrometer Calibration
Psychrometer Calibration (Dew Point/Sling)
Pyrometer Calibration
Recorder Calibration

Humidity (Dial Type)
Temperature & Humidity

RTD Probe Calibration (ITS-Coefficient)
Thermocouple Calibration (No Readout) & Module
In addition to subcontracted humidity and flow calibration, LTI Metrology provides dimensional, pressure, torque, force, electrical, temperature, mass and vacuum calibration services. Find out more about the array of instruments calibrated at our A2LA accredited and NIST traceable calibration laboratory by reviewing our list of Calibration Services & Instruments Calibrated on the Resources page.