Measuring Instruments
New and Replacement Instruments From Leading Manufacturers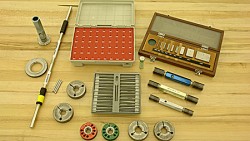 Successful and growing businesses often need to purchase new measuring instruments for their equipment inventory. Measuring instruments can also wear or become damaged over time. When repairs are not possible, it may be necessary to purchase a replacement instrument.
LTI Metrology near Philadelphia, PA is frequently asked to purchase new measuring instruments and parts, or to replace out-of-tolerance instruments or items missing from sets. As a distributor for Glastonbury Southern Gage (GSG), Vermont Gage, Mitutoyo, Boston Centerless, Swanson Tool Manufacturing and Starrett, LTI Metrology can provide new and replacement instruments from these and other leading manufacturers. As their representative, we offer their fixed limit gaging and precision measurement instruments to you at the manufacturer's list prices. Call us for a quote; we provide pricing for customer approval before placing orders. We can calibrate your new measuring instruments before shipping them to you.
Vermont Gage, Glastonbury Southern Gage, Swanson Tool and Boston Centerless are leading manufacturers of fixed limit gaging, and LTI sells a wide array of their masters; working plug, ring and thread gages; blanks and accessories. We can also provide you with a variety of mechanical, digital, electronic and dimensional gaging products from Mitutoyo and Starrett including micrometers, calipers, indicators, gage blocks, optics and much more.
LTI Metrology Capabilities
New and replacement instruments

Masters, gages, measuring hand tools

Replacement parts for repairs
Instrument calibration
Contact us at 800-219-9095, sales@labtesting.com or our web RFQ form to get prices on the equipment you need.