Temperature Controller Calibration
Including Temperature Sensor Calibration for Complete Verification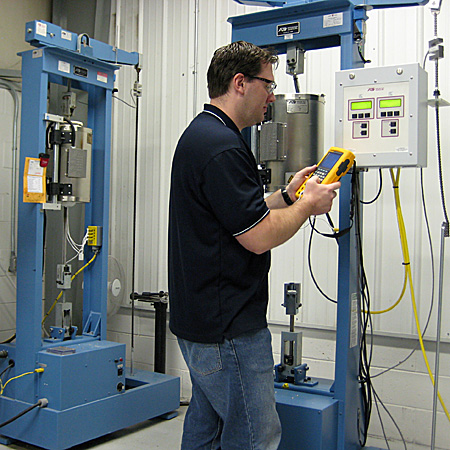 Temperature controller calibration and temperature sensor calibration will confirm that your equipment is operating accurately and consistently over time. A temperature controller is part of a temperature control system with the purpose of maintaining a device at a constant temperature or controlling temperature in equipment that requires minimal operator involvement. A temperature sensor is the part of the system that is exposed to periods of extreme temperatures and frequent thermal cycling, therefore, calibration of both parts is important for ensuring optimal temperature control and continued performance.
A precision temperature controller uses a current or voltage source to drive power through actuators based on input from a temperature sensor such as a thermocouple or RTD. The controller compares the actual temperature to the desired control temperature, or setpoint, and provides output to a connected control element such as a heater or fan to maintain the desired temperature.
LTI Metrology near Philadelphia, PA can perform temperature controller calibration, as well as temperature sensor calibration, to verify that the components of your system work properly and reliably. Our field technicians will calibrate temperature controllers and sensors for any application including ovens and furnaces, stress rupture machines, injection molding equipment, etc.
The Temperature Controller Calibration Process
When performing temperature controller calibration, LTI technicians will verify the controllers by simulating a millivolt signal with the correct cold junction compensation, including any thermocouple such as K, T, J and others for their entire range of functionality. The controllers can be verified to the accuracy stated by manufacturer's specifications or a customer's required accuracy. The field technicians are qualified to make any adjustments necessary to bring these instruments into acceptable accuracies. We also offer opportunities to purchase and replace temperature controllers, if necessary.
LTI Metrology Capabilities
Types of temperature controllers calibrated

On-off, proportional and PID
Digital, analog and chart recording models

Temperature sensor calibration
Temperature calibration provided for additional instruments

Recorders, regulators, readouts, baths

NIST traceability
A2LA accreditation to ANSI/ISO/IEC 17025