Failure Analysis
What Went Wrong? Root Cause Failure Analysis Gives You Answers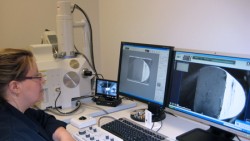 A failure analysis is often performed to help explain the reason  a product fails to perform as expected or deteriorates to a point where it is no longer safe to use. The materials engineers at Laboratory Testing Inc. complete root cause failure analysis investigations to not only help you understand the reason behind the product failure, but to also provide insight into preventing a similar failure in the future. The engineers in the metallurgical failure analysis lab are also available when an expert witness is needed.
Failure Analysis Process
LTI's failure analysis lab begins each investigation with a background review of the material or parts that failed. Whenever possible, customers provide us with information about the composition and fabrication of the failed item, circumstances leading to the failure and details of the failure event by completing our Failure Analysis Questionnaire.
Based on the type of product and its history, LTI will perform a full Root cause failure analysis with the necessary testing and inspections to identify the cause of failure. Metallurgical failure analysis may include any of the wide-range of mechanical testing, metallurgical evaluation, chemical analysis, nondestructive testing or dimensional inspection services performed at our "one-stop" laboratory.
Testing and inspection can determine the chemistry, mechanical properties or the existence of any flaws or inconsistencies to get the structural and behavioral results necessary for a thorough investigation and to uncover the probable root cause of the failure. Top-of-the-line equipment is used throughout the Lab, including our Scanning Electron Microscope with Energy Dispersive X-ray Spectrometry (SEM/EDS) system for detailed analysis.
When the failure analysis is completed, customers receive a comprehensive Failure Analysis Report with all findings from the investigation. This Report may include recommended actions to be taken with similar parts or materials to prevent a reoccurrence in the future.
Failure Analysis Capabilities
Failure Investigation: thorough review of background events leading to failure.
Testing & Inspection: appropriate materials testing, nondestructive testing or dimensional inspection performed on the failed part.
Analysis of Test Results: materials engineers analyze all testing and inspection results to identify the root cause of the failure.
Failure Analysis Report: all findings and recommendations are documented in a comprehensive report. The report will provide the following:

Description of the failed component
Conditions at the time of failure
Background service history
Mechanical and metallurgical data about the failed part
Evaluation of the material quality
Discussion of mechanisms that explain the root cause of the failure
Recommendations for prevention of future failures or for action to be taken with similar parts

Expert Witness
News & Articles