Impact Testing
Using the Charpy Testing Method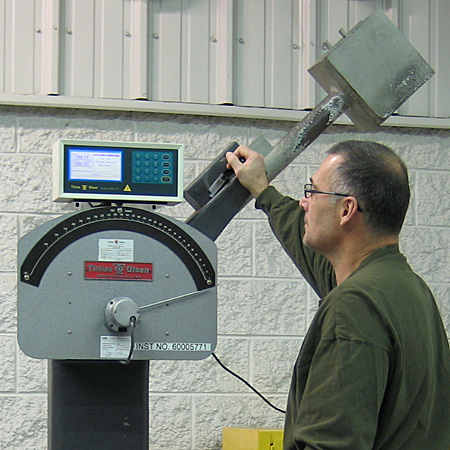 Impact testing determines a material's ability to absorb the energy of forceful impacts. This destructive test involves fracturing a notched specimen and measuring the amount of energy absorbed by the material during fracture to indicate toughness or impact strength. Impact testing at Laboratory Testing Inc. is performed by the charpy testing method. This entails striking a notched specimen with a falling weight at a series of temperatures to show the relationship of ductile to brittle transition in absorbed energy.
Since iron and all other body-centered cubic metals undergo a transition from ductile behavior at higher temperatures to brittle behavior at lower temperatures, this test is required today for steel hull plate for ships, nuclear plant pressure vessels, forgings for electric power plant generator rotors and other important steel products.
Laboratory Testing Inc. performs charpy impact testing at temperatures ranging from -452ºF to 500ºF, including weld charpy testing and the charpy V-notch test. Our full-service Machine Shop can prepare your specimens for charpy testing using the latest CNC equipment, including the charpy V-notch test specimen. LTI is on NIST's (National Institute of Standards and Technology) Qualified Manufacturers List for Charpy V-notch Impact verification specimens.
The Charpy Impact Testing Process
Charpy impact testing is performed using several machined bar specimens 1cm x 1cm x 5.5cm with a 2mm deep notch at the middle of a specified flat surface. The charpy V-notch test is very common and requires a specimen with a V-shaped notch. The specimens are tested at a series of specified temperatures (e.g. -20ºC, -10ºC, 0ºC, +10ºC, +20ºC). Low temperature charpy testing involves placing the specimens in a chamber bath of propylene glycol and dry ice until a calibrated thermocouple records the temperature required for the test. Once a specimen reaches the precise temperature, it is quickly placed into a special holder with the notch oriented vertically and toward the origin of impact. The specimen is struck by a "tup" attached to a swinging pendulum of specific design and weight. The specimen breaks at its notched cross-section upon impact, and the upward swing of the pendulum is used to determine the amount of energy absorbed (notch toughness) in the process. The charpy V-notch test is used routinely in the USA and is described in ASTM E23 "Notched Bar Impact Testing of Metallic Materials". Watch the process in the Charpy Testing Video below.
LTI Capabilities
Test capabilities – charpy impact testing, weld testing
Temperature capabilities – -452ºF to 500ºF
Specimen machining – all charpy testing specimens; NIST approved for charpy V-notch test specimens
Test Methods/Specifications
ASTM A370
ASTM E23
ISO 148