Microscopic Examination
Microstructure Analysis for Carburization, Decarburization, Sensitization & More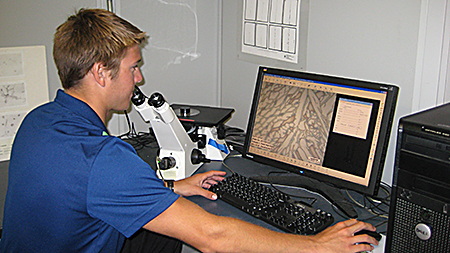 Microstructure analysis is conducted by microscopic examination, a process that studies the structure of materials under magnification. The properties of a material determine how it will perform under a given application and these properties are dependent on the material's structure. Industrial processes or treatments such as casting, welding and heat treating are often applied to metals to prepare them for particular applications and to improve their characteristics and properties. A microscopic examination may be conducted to evaluate the effects of a process on material using optical microscopy at low magnification or scanning electron microscopy (SEM) under high magnification.
There may be residual effects of these processes and treatments, inclusion or contaminants that can be explained by microstructure analysis and microscopic examination. In many cases, the investigation centers on the correlation between the resulting microstructure and the material properties.
For example, exposure of carbon and alloy steels to elevated temperatures during heat treatment can cause a loss or gain of carbon near the surfaces of the parts if the atmosphere in the furnace is not properly controlled. Decarburization causes the surface to be soft and weak with little wear resistance, while unwanted carburization can cause the surface to become too brittle. Also, if austenitic stainless steel does not see sufficient temperature for enough time or does not receive a sufficiently rapid quench during heat treating, the carbon in the alloy will form chromium carbides on the grain boundaries which will make the material brittle and susceptible to intergranular corrosion. A sensitization test will reveal this problem.
On the other hand, scanning electron microscopy is used to determine abnormalities such as inclusions, segregation, and surface layers, as well as fracture features. When used in combination with energy dispersive X-ray spectroscopy (EDS), the microstructure analysis can identify inclusion type and corrodents on the fracture face.
 Types of Microscopic Examination
Grain size (ASTM E112)
Extent of Carburization & Decarburization
Intergranular Attack & Oxidation
Sensitization
Alpha Case/Surface Contamination
Percent Spheroidization
Inclusion Rating (ASTM E45)
Plating Thickness
Carbide Precipitation
Ferrite by Point Count (ASTM E562)
Nodularity, Nodule Count
Eutectic Melting
Volume fraction of various phases or second phase particles in metals
The Microscopic Examination Process
A carefully prepared specimen and magnification are needed for microscopic examination. Proper preparation of the specimen and the material's surface requires that a rigid step-by-step process be followed. The first step is carefully selecting a small sample of the material to undergo microstructure analysis with consideration given to location and orientation. This step is followed by sectioning, mounting, grinding, polishing and etching to reveal accurate microstructure and content.
Detailed viewing of samples is done with a metallurgical microscope that has a system of lenses (objectives and eyepiece) so that different magnifications (typically 50X to 1000X) can be achieved. Scanning Electron Microscopes (SEMs) are capable of much higher magnifications and are utilized for highly detailed microstructural study.
Typically, microstructure analysis of metals confirms structure and property relationships. The various types of microstructure analysis performed at LTI are PRI/Nadcap and A2LA accredited. Examinations are completed according to detailed procedures and applicable industry standards to assure reliable results. All results are documented in Certified Test Reports.
LTI Capabilities
Microscopic Examination
Photomicrographic Examination
Digital Imaging – optical magnification from 7X to 1000X
SEM Analysis – magnification to 300,000X
Failure Analysis
Weld Testing for Welder Qualification
Test Methods/Standards
ASME Sect. IX
ASTM A247
ASTM A262
ASTM E112
ASTM E1268
ASTM E2142
ASTM E3
ASTM E407
ASTM E45
ASTM E562
ASTM E883
ASTM E92
MIL Specifications