Magnetic Particle Inspection
Magnetize to Find Discontinuities
Magnetic particle inspection is a very sensitive nondestructive test (NDT) method used to identify defects on the surface of ferromagnetic materials such as forgings, castings, weldments and machined or stamped parts. Magnetic particle inspection or MPI is also referred to as magnetic particle testing (MP) or magnaflux testing. They are all different names for the same test process. Laboratory Testing Inc. performs both visible dry and wet fluorescent magnetic particle inspection. Testing by the wet or dry method is performed according to MIL-STD-1949, MIL-STD-271 and ASTM E 1444; wet fluorescent magnetic particle inspection is also performed according to MIL-STD-2132. Our lab is PRI/Nadcap accredited for magnetic particle inspection and provides a certified material test report with each order.
The Test Process
In both the visible dry and wet fluorescent methods, the test is performed by spreading fine iron oxide particles with high magnetic permeability over the surface of a test piece as it is magnetized. The magnetic particles are applied in either of two ways:
Dry as a powder
Wet in a suspension petroleum-based or water-based liquid or carrier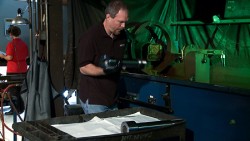 Discontinuities such as cracks, laps and seams in the material distort the surrounding magnetic field, causing the particles to be drawn to and collected in these areas for a visible indication of the defect. A trained and experienced nondestructive testing technician interprets any indications that are observed during the magnetic particle inspection.
Each test piece is inspected in two opposing directions to find defects in all locations (e.g. head shot, central conductor shot). Performing the test in each direction requires that the full magnetic particle inspection process (spray, magnetize, examine for defects) be performed multiple times to evaluate the entire part. After the inspection is completed, all parts are run through a demagnetizer to remove or reduce the residual magnetism to within the allowable limits of the applicable specification. They are also post-cleaned in a solvent degreaser and coated with a light rust preventative oil.
Wet fluorescent magnetic particle inspection is performed most often at LTI because it is more reliable, more sensitive to very fine defects and more convenient than the visible dry method.
The wet suspension reduces the chance of adherence to surface contamination and allows for the use of smaller particles for better flow to small leakage fields
Test samples are viewed in a dark environment under UV lighting where the fluorescent colors provide better visibility of indications
The particles are contained in a liquid carrier for easier and more uniform spray application
Samples for wet fluorescent magnetic particle inspection are tested using magnaflux benches that can handle products up to 12 ft. long and have a maximum output of 6,300 amps. Dry powder magnetic particle testing is used most often in the field for convenience.
LTI Capabilities
Inspection Methods – visible dry and wet fluorescent
Products Tested – ferromagnetic materials and products
Size Limitations – test materials to 12 feet in length
Specifications
ASTM E1444
MIL-STD-1949
MIL-STD-271
MIL-STD-2132
AMS 2300 Series (Material Cleanliness)
News & Articles
Magnetize to Find Discontinuities