Polymer Analysis and Plastic Testing
Understanding Material Composition and Properties
In recent years, we have seen a growing use of polymeric materials in the industries we service and an increasing need for polymer characterization to ensure optimal performance of the material. Various polymer testing and analysis processes, including elastomer and plastic testing, can reliably determine material structure and mechanical properties.
Although Laboratory Testing Inc. is not as well known for polymer testing and plastic testing as it is for testing metals, we have expanded our polymer testing, analysis and characterization capabilities to include FTIR analysis, hardness testing and tensile testing. These polymer analysis and testing services are performed according to our stringent procedures and customer requirements. All details are outlined on Certified Test Reports.
LTI Polymer Testing and Analysis Capabilities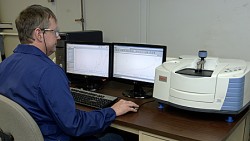 Fourier Transform Infrared Spectroscopy (FTIR) is an analytical technique used to identify organic, polymeric, and in some cases, inorganic materials. LTI is performing FTIR analyses with a high-tech Thermo Scientific Nicolet iS10 FT-IR spectrometer. The analysis results in an absorption spectra which provides information about the chemical bonds and molecular structure of a material. Absorbance peaks provide information that can be used to identify the general types of material being analyzed. The analytical spectrum can be compared with cataloged reference spectra to identify base polymers and additives.
The characterization of mechanical properties in polymers typically refers to a measure of strength and hardness. Polymer testing for material hardness is measured by the Shore Durometer Test at LTI, in accordance with ASTM D2240. This polymer testing method determines a material's hardness value or resistance to indentation by penetration of an indenter into the test sample. Since the flexibility of polymers varies, LTI is equipped with various indenters to use for testing different types of materials from elastomers to rigid plastics.
LTI's tensile machines range from a 600K to our newest Tinius Olsen tensile test machine, a 10K for polymer test samples. It will test any polymeric material that can be formed or machined into a specimen. Tensile testing involves applying a constant rate of tensile load to a test sample up to the point of failure. The process creates a stress/strain curve showing how the material reacts throughout the test process. The data generated during the test is used to determine tensile strength, yield strength and ductility for polymer characterization.