FTIR Analysis
FTIR Spectroscopy for Material Identification & More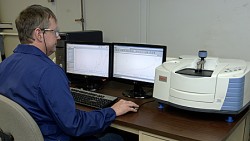 Fourier Transform Infrared Spectroscopy (FTIR Analysis or FTIR Spectroscopy) is an analytical technique used to identify organic, polymeric, and in some cases, inorganic materials. The FTIR analysis method uses infrared light to scan test samples and observe chemical properties.
Fourier Transform Infrared Spectroscopy can provide both quantitative and qualitative information about the test sample. This method is extremely useful for:
Assessing purity
Identifying the following:

Base polymer composition
Additives
Organic contaminants
General type of material being analyzed when there are unknowns
Samples in a variety of forms can be analyzed by FTIR spectroscopy:
Solids placed on a crystal
Liquids placed between two sodium chloride plates
Thin film placed in a cassette
Powdered sample mixed with potasium bromide and placed in a pellet
During FTIR analysis, an absorbance spectra of the sample is created which provides information about the unique chemical bonds and molecular structure of the material. This profile is in the form of an absorption spectrum which shows peaks representing components in higher concentration. Different types of bonds, and thus different functional groups (e.g. alkanes, ketones, acid chlorises), absorb infrared radiation of different wavelengths. Although the analysis is performed in absorbance, it can be converted to transmittance, since they are simply the inversions of each other.
Laboratory Testing Inc. performs FTIR analysis with a high-tech Thermo Scientific Nicolet iS10 FT-IR spectrometer. FTIR spectroscopy compliments the wide-range of instrumental and wet chemistry services performed at LTI for materials characterization, qualitative and quantitative element analysis and failure analysis on a variety of materials including metals, powdered metals, ores, ferroalloys, composites and ceramics. Laboratory Testing Inc. is fully capable of preparing test specimens for all analysis.
The Test Process
FTIR analysis can be accomplished by Attenuated Total Reflectance (ATR), Nujol and thin film. Enough sample is required to obtain an absorption spectrum during FTIR analysis. Solid samples are usually prepared by shaving some material off of the sample that is thin enough to obtain a good spectrum.
The first step is to collect a background spectra to subtract from the test spectra to ensure the actual sample is all that is analyzed. Next, the sample is analyzed by LTI's fully-computerized Fourier Transform Infrared Spectroscopy system which generates the spectrum showing the molecular structure of the sample material. Absorbance peaks on the spectrum indicate functional groups. The analytical spectrum is then compared in a reference library program with cataloged spectra to identify components or to find a "best match" for unknown material using the cataloged spectra for known materials. See the process in our FTIR Analysis Video below.
LTI Capabilities
Identification of organic, polymeric, and in some cases, inorganic materials including sample composition, additives, contaminants and unknown materials
Analysis performed in absorbance or transmittance
Library of reference spectra