Metal and Other Material Analysis
Understanding and Verifying Your Materials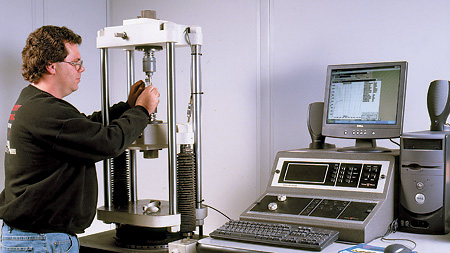 Material analysis and material testing customers rely on the technical expertise, reliable results and outstanding service provided by the staff at Laboratory Testing Inc. Our highly trained and experienced engineers, chemists and technicians will get the information you need for raw material comparison, product verification, failure analysis or to take care of other business needs.
Tested Materials and Products
An array of metal analysis, metal testing, polymer testing and material analysis services for composites, powdered metals, ores, ferroalloys, ceramics and more is offered by LTI. Material analysis and testing can help you select raw materials, evaluate production processes, verify the quality of end products and research product failures.
Analysis of metals is routinely performed in our chemistry and metallography labs. Our other laboratory services are performed on a wide-range of specimens in mechanical testing and on products such as tubing, pipe, bar, plates, castings, fasteners and other machined parts of all sizes, shapes and weights in non-destructive testing. Laboratory Testing is fully equipped to prepare the test specimens and samples for all material testing and analysis orders.
Lab Testing performs all metal analysis, metal testing, polymer testing and other material analysis at our Hatfield, PA facility (near Philadelphia) including many types of mechanical testing, fracture mechanics, metallurgical testing, chemical analysis, corrosion testing and nondestructive testing.
Meeting Quality Requirements
LTI is accredited by NADCAP and A2LA and has ISO/IEC 17025 certification. Metal test procedures and processes also comply with ISO 9001 and ISO 13485 requirements.
Customers receive a Certified Test Report with every order documenting all completed work, applicable specifications, accreditations, and test results. The Lab is committed to meeting your quality requirements and satisfying customer requests.
Services for all Your Needs
Verify mechanical properties
Examine microscopic product features
Identify inconsistencies and defects
Determine material composition
Test vulnerability to corrosion
Investigate a failed product
Analyze moisture content
Our metal analysis and polymer testing departments work with the latest computerized equipment for consistent processing and reporting of results. Some recent top-of-the-line additions are a Hitachi SEM System with an EDAX EDS, a Thermo Scientific FTIR, an MTS Testing System for fracture toughness testing and a Leco Moisture Analyzer.
LTI has a reputation as a leading material analysis and testing laboratory. This is due, in part, to our priority for customer satisfaction. Call our Account Managers at 800-219-9095 to discuss your specific material test requirements.