Chemical Testing
Instrumental & Classical Wet Chemistry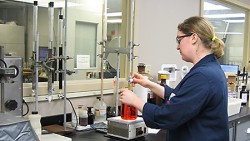 Let the chemical testing laboratory at LTI determine the composition, structure or elemental make-up of your metals, alloys and other materials. Our chemists perform metals testing, composite testing and analysis of powdered metals, ores, ferroalloys, ceramics, plastics and more. LTI is A2LA and Nadcap accredited and performs analyses in the instrumental and classical wet chemical testing labs according to a wide array of ASTM test methods and SAE International AMS standards.
Our computerized chemical testing equipment is efficient, accurate and provides reliable reporting of test results. LTI's instrumental chemical testing laboratory provides the following analyses:
Carbon, sulfur, nitrogen, oxygen and hydrogen analysis and determination
Atomic Emission Spectroscopy (AES)
Inductively Coupled Plasma Spectroscopy including ICP-AES and ICP-MS analysis
Energy Dispersive X-ray Spectrometry with SEM capabilities (SEM/EDS)
Fourier Transform Infrared Spectroscopy (FTIR)
Positive Material Identification (PMI)
Moisture Analysis for welding flux and inorganic samples
Full Capabilities to Get Exactly What You Need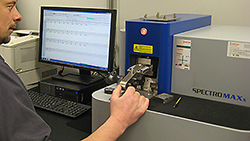 Trace element analysis is performed with ICP Spectrometers that detect the full spectrum of elements and have detection limits in the "parts per million" range for many metals. Gravimetric, volumetric, colorimetric and potentiometric procedures are used for chemical testing in the wet lab at Laboratory Testing Inc.
Our chemists in the instrumental and classical wet chemical testing labs can obtain quantitative and qualitative information relating to the elements in a sample through various methods. They also have the capability to process work with limited sample weight or specialized requirements.
The chemical testing laboratory also performs testing on metals to determine susceptibility to corrosion. The list of services provided for corrosion testing include accelerated intergranular corrosion, passivation, humidity, salt spray and salt fog methods performed according to ASTM and industry standards. RoHS Compliance Testing is also provided to meet the restrictions against hazardous substances sold or used in the European Union.
Read "Instrumented Chemical Analyses"