Hydrostatic Testing
Leak Testing of Pressure Vessels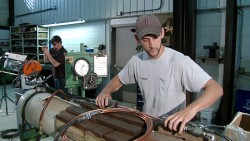 Hydrostatic testing, also called leak testing, helps evaluate the integrity of vessels that are used under pressure. The hydrostatic test can locate leaks, verify performance or confirm the strength and durability of the pressure vessels that undergo testing.
Laboratory Testing Inc. performs hydrostatic testing on tubing, pipe and coils to pressures up to 10,000 PSI.
The procedure used in performing the hydrostatic test on any of these vessels includes:
Filling the test piece with water or oil
Removing air from the test piece
Pressurizing the vessel to the appropriate PSI
Completely examining the test piece for any leaks or changes to its shape
Although leak testing by the hydrostatic test method is considered a nondestructive test, failures can occur when the test piece does not meet performance or durability specifications and may render the piece unusable.
A decrease in the applied pressure, leakage through the product or deformation, distortion or bulging in the product are all indications of inadequate quality of the test vessel. Hydrostatic testing of pressure vessels can also be performed by filling the piece with air while it is submerged under water to protect the technician in case the piece ruptures.
Let Laboratory Testing Inc. evaluate the reliability of pipe, tubing, and coils used under pressure with our leak testing service.
Our lab is equipped to perform hydrostatic testing to 10,000 PSI of pressure. Although the hydrostatic test can be performed by filling the test piece with water, oil or air under water before it is pressurized, our technicians most often performs hydrostatic testing with water. This is a very efficient and reliable leak testing medium, and is the lowest price of the three methods for our customers. Often, the hydrostatic test is ordered in conjunction with the ultrasonic testing service we perform.
Hydrostatic Testing Summary
Products Tested – pipe, tubing and coils
Test Medium – water, oil or air (pressurized air test conducted under water)
Pressure Limitations – up to 10,000 PSI