Magnetic Particle Testing
Locating Surface Flaws on Magnetized Materials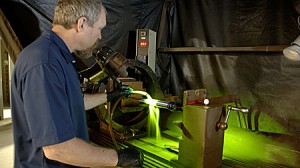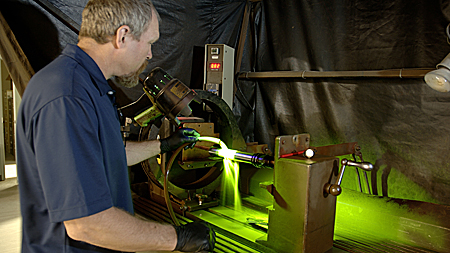 Magnetic Particle Testing, also frequently referred to as Mag Particle Testing, MPI Testing and Magnaflux Inspection, identifies surface flaws in metal products that can be magnetized. The magnetic particle testing services performed at Laboratory Testing Inc. may be applied to raw materials, semi-finished materials such as castings and forgings, finished materials and welds.
Mag particle testing is performed with either a wet solution or a dry powder containing small magnetic iron particles. When these small particles are applied to the surface of the test material, either during or after magnetization, they will be attracted to the magnetic field. The attraction to the magnetic field causes the particles to accumulate in flaws such as cracks, laps and seams, where they will be visible to a trained and certified NDT Inspector.
Mag Particle Testing Methods
Wet fluorescent magnetic particle testing is performed most often at Laboratory Testing Inc. with a solution of very small particles contained in a liquid carrier. The wet solution has an advantage over the dry in that it is easily sprayed, flows well to small leakage fields and the fluorescence allows the particles to be seen without difficulty under our special lighting.
The Lab's Magnaflux inspection equipment is designed for fast and reliable testing. These machines provide a maximum output of 6,300 amps and can handle products that are up to 12 ft. long.
LTI also performs MPI testing using the visible dry powder method, when wet fluorescent magnetic particle testing is not an option for oversized products.
Magnetic Particle Testing Summary
MPI Testing Methods – dry powder and wet fluorescent magnetic particle testing
Size Limitations – products up to 12 feet in length
Product Requirements – ability to be magnetized
Test Supplies – Magnaflux brand
Test Specifications – ASTM E1444, MIL-STD-1949, MIL-STD-271, MIL-STD-2132, AMS 2300 Series
The NDT Inspection Department at LTI performs a number of other test and inspection services, including ultrasonic, X-ray and liquid penetrant. Use our RFQ form for a quote or Contact Us to find out about the many other testing and calibration services available at LTI to make your job easier.