Polymer Testing
Added Convenience for Aerospace, Military, Medical & Other Industries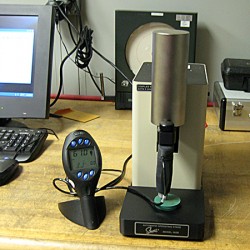 Laboratory Testing Inc. continues to expand its line of materials testing services with the addition of polymer testing capabilities, including testing of plastic and rubber. Known since 1984 as a specialist in metals testing, LTI has seen an increasing need for polymer and plastics testing in the aerospace, military, medical and other industries that we have serviced for years. The addition of a polymer testing lab provides a convenience for many customers requiring both metal and polymer testing services.
A number of services are currently provided by LTI for certification of polymeric materials, while others are planned for the near future. Ask us about the polymer and plastics testing capabilities available from our lab in the Philadelphia, PA (USA) area, including tensile and hardness testing and Fourier Transform Infrared Spectroscopy (FTIR).
FTIR is an analytical technique used to identify organic and some inorganic materials. The spectrometer used in FTIR analysis creates an absorption spectra with absorbance peaks that provide information about the chemical bonds and molecular structure of the test material. The data can be used to identify the general type of material under analysis by comparing the analytical spectrum with cataloged reference spectra to identify base polymers and additives.
The hardness of polymers is measured by the Shore Durometer Test at LTI, in accordance with ASTM D2240. This method determines a material's hardness value or resistance to indentation by penetration of an indenter into the test sample. Because the flexibility of polymers varies, LTI is equipped with various indenters to use for testing different types of materials from elastomers to rigid plastics.
Tensile testing to measure tensile strength, yield and ductility is performed on a 10,000 lb. tensile machine capable of testing polymeric samples.
Both digital and conventional radiography can provide value during design and manufacturing of plastic components. It's a non-invasive way to identify voids and assure compliance of the component with requirements. Samples can also be examined and fully checked for foreign material.