Machining Test Specimens
Tensile Specimen, Charpy Specimen & More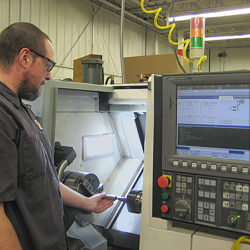 When test specimens are needed for mechanical, fracture mechanics or corrosion testing, let our machinists do the work. The LTI Machine Shop prepares all test specimens according to ASTM standards (including ASTM A370, ASTM E8, ASTM E23) and other industry specifications, such as AWS, ISO, EN, DIN, JIS and NACE.
Laboratory Testing Inc. is a NIST Qualified Manufacturer for Charpy V-Notch Impact verification test specimens. All test specimen machining is NADCAP accredited.
The latest waterjet equipment for cutting and CNC centers for milling, turning and grinding, including low-stress grinding, allows us to prepare the highest quality test specimens quickly and economically, including:
Compact and Middle Tension
Round or flat Tensile specimen
Impact test specimen
Fracture Toughness and Fatigue
Jominy, Stress Rupture  and many others
Traceability of sample material and test specimens is insured from receipt inspection through the final process in our laboratory machine shop. All specimens receive a dimensional inspection after machining is complete to verify that measurements are accurate to the appropriate specification.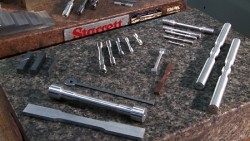 Machining of test specimens is a time-saving convenience for our customers that require a specimen for destructive testing. Our machining capabilities allow the complete order to be processed right at LTI, from receipt of the sample to preparation of the Certified Test Report. Laboratory Testing also provides test specimens to companies that perform their own in-house testing.
Refer to our Sample Size Requirements under the Guidelines section on our Resources page when ordering testing services that require test specimens.
Test Specimens Summary
ASTM Machining Standards – A370, E8, E23
Test Specimens Provided

Tensile Specimen – flat, round (threaded, unthreaded), elevated temperature
Impact Test Specimen – including Charpy V-notch and Izod Impact
Stress Rupture
Fracture Toughness – notched by EDM
Fatigue
Stress Corrosion
Tension
Tear
Bend
Compression
Gleeble
Jominy
Hydrogen Embrittlement

NIST Qualified Manufacturer – Charpy V-notch Impact
Additional Services – Electrical discharge machining (EDM)