Dimensional Inspection Helps Prevent Power Plant Failures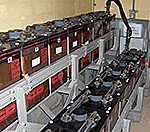 Many businesses rely on dimensional inspection to verify the measurement accuracy of product features during product development or as part of their production quality control. Laboratory Testing Inc. (LTI) performs A2LA accredited first-article and third-party dimensional inspection on surface and specialty product features, as well as internal and external fastener threads.
LTI customer, C&D Technologies, manufactures batteries for telecommunication facilities, data centers and electric utilities. The batteries installed at these facilities provide standby power when the primary commercial power is interrupted.
Among the users are nuclear power plants, which require the highest quality batteries to prevent damage to their facility and ensure public safety when external power is lost. As we saw earlier this year in Japan's Fukushima power plant, the continued operation of cooling water pumps and other safety systems is vital.
Reason for Testing
To ensure that the batteries are of the highest quality and will perform as required, individual components are tested. This includes some of the plastic components such as the battery containers and covers, which must safely hold electrolyte (sulfuric acid solution) to operate the batteries. C&D Technologies sends their containers and covers to LTI to ensure that these molded pieces are sized correctly and will fit together properly without leaking or cracking.
Reason for Choosing LTI
C&D has audited LTI's quality system and their Nuclear Product Manager, Larry Carson, said "we know that we can depend on LTI for accurate, timely and consistent results that help us meet the stringent quality requirements of the nuclear power industry." C&D should know – they have been the leading supplier of safety-related battery systems to the nuclear industry in North America for over 40 years.
Inspectors at LTI work in an environmentally-controlled laboratory to minimize uncertainty. Dimensional inspections are performed using programmable contact and non-contact equipment for speed, accuracy and repeatability.