Revolutionary War Cannon Inspected for Safety
The barrel of a Revolutionary War cannon on display at Fort Mifflin was inspected for cracks at LTI by the Magnetic Particle Inspection method. Fort Mifflin's staff had intended to put the cannon into use during demonstrations for school and scout groups and during public living history events, but first needed to determine if the barrel was structurally sound to ensure the safety of staff and visitors.
Reason for the Selected Testing
Fluorescent Magnetic Particle Inspection was an ideal method to identify discontinuities on the surface of the barrel, since it was made of a material that could be magnetized and the process would not damage the test piece. The inspection process is performed by spreading a solution of fine iron oxide particles with high magnetic permeability over the barrel as it is magnetized. Cracks and other discontinuities distort the surrounding magnetic field, causing the particles to be drawn to and collected in these areas for a visible indication of the defect.
The magnetic particle inspection was performed by a certified Level 2 MP Inspector, including interpretation of the indications that were observed during the process. A complete report of the test results was provided to the Fort for their review.
History of Fort Mifflin
Fort Mifflin is located on Mud Island in the Delaware River south of Philadelphia. For nearly six weeks in the fall of 1777, American troops in Fort Mifflin delayed British naval attempts to re-supply their occupying forces in Philadelphia. On the morning of November 10, 1777, the British began a more aggressive assault on the Fort. Bombardment by cannon and grenades continued through November 15, when the garrison evacuated and set fire to what was left of the Fort.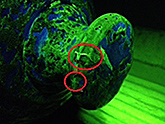 Fort Mifflin was subsequently rebuilt and expanded, beginning in the late 18th century under the direction of Peirre L'Enfant. L'Enfant was a French-born American architect and civil engineer best known for designing the layout of the streets of Washington, D.C.
The Fort was decommissioned in 1954 and designated as a National Historic Landmark in 1970. The property is owned by the City of Philadelphia and operated by the non-profit organization Fort Mifflin on the Delaware.  The fort remains a unique mixture of military architecture dating from 1795 to 1875.
Visit www.FortMifflin.us for information.