Element Analysis by Atomic Emission Spectroscopy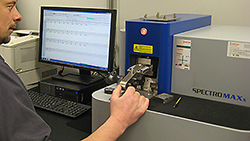 Atomic Emission Spectroscopy (AES) is an instrumental method for performing elemental chemical analysis or determining the elemental composition of a sample solid material. The basic principle of AES is that when free atoms are put into an energetic environment, they emit light in a series of wavelength bands, similar to the diffraction of light into a rainbow. These wavelength bands or emission lines form a pattern that is characteristic of the atom that produced it. Generally, the intensities of the various emission lines are proportional to the number of atoms in the test sample that produced the lines. If an element is present in a sample, its characteristic spectrum lines also will be present. The concentration of that particular element can be determined by measuring the intensities of the characteristic lines and comparing them to the same lines from known standards. Thus, element analysis can qualitatively identify the type of element by the emission spectrum and quantitatively measure the amount of the element by the intensities of the emission lines.
When performing the atomic emission spectroscopy test with an AES system that has a spark source, the sample is put in the spectrometer as a cathode and a tungsten pin is the anode. The gap between the pin and the sample is filled with the inert gas Argon. When the spark strikes the sample, rapid heating of the sample occurs causing vaporization of a small amount of sample from the surface, and forming a plasma (high energy gas cloud). The plasma produces the spectrum of lines from the elements that are present in the sample. The spectra are analyzed using mirrors and a diffraction grating to separate the analytical lines, as well as a set of photomultiplier tubes to quantify the light emitted from the elements and to measure their concentrations. Then, a computer compares the amount of light from the sample to that of known standards to identify the element, and calculates the quantity of the element. Spectrographic spark source instruments are very rapid and are often used in production applications such as steel mills and foundries.