Legal
When Reliable Results Really Count
The performance of products or their parts often becomes the subject of insurance claims and litigations. Laboratory Testing Inc. performs the testing and failure analysis necessary to uncover key facts that will help settle the claim or case. Sophisticated equipment is used throughout our laboratory and our team includes highly experienced engineers and chemists. We can provide assistance with deposition and trial testimony, when an expert witness is needed.
Gathering Facts to Support Your Case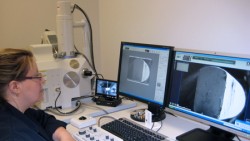 Laboratory Testing Inc. will help you understand the properties and characteristics of materials and products that fail to perform as expected. We use proven materials and nondestructive testing methods to gather the facts and answers you need with the following capabilities:
Verify material composition
Evaluate mechanical properties
Detect flaws or defects
Determine specification compliance
---
Documented Findings
A Certified Test Report is provided with the detailed results of all testing performed. When a complete failure analysis is performed, the test results, all findings and recommendations are documented in a comprehensive Failure Analysis Report that includes:
Description of the failed component
Conditions at the time of failure
Background service history
Mechanical and metallurgical data about the failed part
Evaluation of the material quality
Discussion of mechanisms that explain the root cause of the failure
Recommendations for prevention of future failures or for action to be taken with similar parts
These investigations frequently require in-depth analysis such as Scanning Electron Microscopy with Energy Dispersive X-ray Spectroscopy (SEM/EDS), Inductively Coupled Plasma Analysis (ICP-AES, ICP-MS), Fourier Transform Infrared Spectroscopy (FTIR) and digital imaging.
Contact Us for quick information and answers to your questions, or complete a Failure Analysis Questionnaire to get started.