Manufacturing / Fabrication
Offering Full Service Solutions
LTI has the testing expertise and capabilities to support you through product research, product development, routine manufacturing or product assembly and quality control. Should materials or a process fail to meet expectations, our engineers can perform a failure investigation to determine the root cause of the problem. Our wide-variety of materials testing can give you the answers you need for: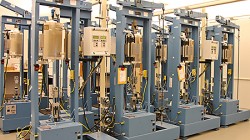 Material identification
Material selection
Conformance certification
Process verification
Performance evaluation
Failure analysis
Another vital step in ensuring the production or assembly of a quality product is verifying the accuracy of output from measuring tools, gages, torque wrenches, CMMs and other instruments used in assembly or production. LTI's calibration lab, called LTI Metrology, offers you a convenient solution with calibration services performed in our environment-controlled laboratory or on-site at your facility
---
Meeting All Your Needs
Whether you use testing and calibration services for your own peace of mind, to meet customer requirements or to meet industry specifications, LTI is here to do the job. We know that accuracy, timely turnaround and competitive pricing are important to meeting your competitive challenges, so we work hard to give you the best deal around.
In addition, our chemistry, mechanical testing, metallography and nondestructive testing laboratories can perform the testing you need at one convenient location. If test specimens are required, LTI has a complete Machine Shop to prepare them to your specifications.
Full-Service Materials Testing
Positive Material Identification (PMI)
Spectroscopy (ICP-AES, ICP-MS, AES)
EDS Analysis
Fouier Transform Infrared Spectroscopy (FTIR)
Carbon / Sulfur / Nitrogen / Oxygen / Hydrogen Determination
Wet Chemistry
ASTM A262 Practice A, B, C, D, E
ASTM G28 Methods A & B
ASTM G48 Methods A & B
ASTM A923 Method C
Salt Spray / Salt Fog
Humidity Testing
Passivation Testing
Temperature Testing
Tensile Testing
Charpy Impact Testing
Drop Weight Test
Hardness Testing
Hydrogen Embrittlement
Weld Testing
Fracture Toughness Testing
Fatigue Crack Growth Testing
Microstructure
Microhardness (Knoop & Vickers)
Grain Size (ASTM E112)
Inclusion Rating (ASTM E45)
Plating Thickness
Carbide Precipitation
Ferrite by Point Count (ASTM E562)
Intergranular Attack / Oxidation
Alpha Case
Intergranular Corrosion (ASTM A262)
Sensitization
Surface Contamination
Nodularity / Nodule Count
Eutectic Melting
Macro-etch (ASTM E340)
Grain Flow
Surface Condition
Surface Finish
Case Depth
Carburization / Decarburization
Weld Qualification
Ultrasonic Testing
Hydrostatic Testing
Magnetic Particle Inspection
Liquid Penetrant Inspection
X-ray Inspection (Radiography)
Calibration Services are provided by our highly trained and experienced technicians for a wide-range of instruments:
Dimensional / Hand Tools
Pressure
Torque
Force
Mass
Vacuum
Electrical
Temperature
Humidity
Let us also take care of the following services for you:
Repairs and Adjustments
New Instruments and Replacement Parts
Request a Quote or Contact Us for quick information and answers to your questions.