Medical / Healthcare
Staying Ahead of the Technology Curve
The medical field is rapidly evolving with new breakthroughs in technology and improvements to medical materials, medical devices and implants. What doesn't change is the need for the highest quality and most reliable products to ensure performance, durability and long-term reliability. The services provided by our material testing and calibration lab help make that happen.
As a material testing lab, Laboratory Testing Inc. is a major supplier of nondestructive and destructive testing services for leading manufacturers in the medical industry. By partnering with these manufacturers, LTI's testing and certifications have become an essential part of their quality programs and have provided assurance that the materials going into their products will hold up to expectations.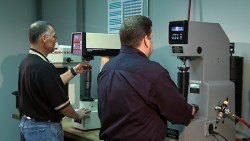 LTI offers material testing and inspection services for metals and polymers. We provide information customers need for product qualification, material verification, production control and other important business decisions including:
Material composition & identification
Mechanical properties
Defects & discontinuities
Susceptibility to corrosion
LTI Metrology, our calibration lab, can validate the output of measuring tools, gauges and other instruments that help support production and quality control. For convenience you can send instruments to our full-service calibration lab or schedule on-site service with our technicians.
---
Meeting Medical Industry Requirements
A Certified Test Report or Calibration Certificate is provided with all orders and includes details about the services performed and the results. Our A2LA accreditation and ISO/IEC 17025 certification comply with the requirements of ISO 13485 for the medical industry, so you know you will get reliable service and results.
Read "Assuring Quality in Medical Materials"
Material Testing and Much More
To ease your workload and get you quick results, we can coordinate all related services right here at LTI. Specimen preparation is offered by our in-house Machine Shop. Root cause failure analysis is performed by materials engineers and includes recommendations for avoiding future occurrences. Dimensional inspection services verify the measurement accuracy of machined parts.
Our testing services for medical devices and implants include the following:
Trace Element Analysis
Spectroscopy (ICP-AES, ICP-MS, AES)
SEM/EDS
Positive Material Identification (PMI)
Fourier Transform Infrared Spectroscopy (FTIR)
Carbon / Sulfur / Nitrogen / Oxygen / Hydrogen Determination
RoHS Compliance Testing
Wet Chemistry
Tensile, Elongation Testing
Yield Strength
Fracture Toughness Testing
Fatigue Testing
Hardness Testing
Bend Testing
Stress Rupture
Compression Testing
Microstructure
Grain Size (ASTM E-112)
Coating / Plating Thickness
Surface Contamination
Microhardness (Knoop & Vickers)
Ultrasonic Testing
Liquid Penetrant Inspection
X-ray Inspection (Radiography)
Request a Quote or Contact Us for quick information and answers to your questions.