Military / Defense
Committed to Protecting Our People
Laboratory Testing provides the government and other clients in the defense sector with all the NADCAP accredited testing (nondestructive and materials testing) required to support research on new technology, product manufacturing and failure analysis. Our engineers, chemists and technicians are available for consultation and to help uncover solutions to your unique requirements.
A DCMA QAR (Defense Contract Management Agency quality assurance representative) is onsite for government source inspection. We also carry approvals from many leading manufacturers.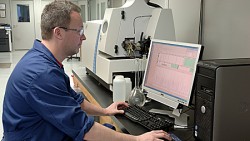 For the protection of our country and our troops, product safety and accuracy are imperative to the military and defense industries. LTI's materials testing and nondestructive testing services are performed according to stringent industry procedures to determine the following:
Material Composition
Mechanical Properties
Defects and Inconsistencies
Corrosion Susceptibility
Cause of Failure in metal parts
Read "Tactical Tomahawk Missile in Development"
---
Nadcap Accredited Testing

Our Nadcap accredited testing, including chemistry, corrosion, mechanical, metallurgical and nondestructive testing services, are conveniently provided by our one-stop facility for metals and alloys. Laboratory Testing Inc. also analyzes powdered metals, ferroy alloys, ores, composites, ceramics and polymers. You'll receive a Certified Test Report with each order that includes all pertinent information and results pertaining to the services ordered.
Spectroscopy (ICP-AES, ICP-MS, AES)
Carbon / Sulfur / Nitrogen / Oxygen / Hydrogen Determination
Wet Chemistry
Salt Spray / Salt Fog
Humidity Testing
Passivation Testing
Temperature Testing
ASTM A262 Practice A, B, C, D, E
ASTM G28 Methods A & B
ASTM G48 Methods A & B
ASTM A923 Method C
Tensile Testing
Charpy Impact Testing
Drop Weight Testing
Hardness Testing
Creep Test
Stress Rupture
Weld Testing
Fastener Testing
Microstructure
Carburization / Decarburization
Grain Size (ASTM E-112)
Inclusion Rating (ASTM E-45)
Plating Thickness
Carbide Precipitation
Ferrite by Point Count (ASTM E-562)
Intergranular Attack / Oxidation
Alpha Case
Intergranular Corrosion (ASTM A-262)
Sensitization
Surface Contamination
Nodularity / Nodule Count
Eutectic Melting
Macro-etch (ASTM E-340)
Grain Flow
Surface Condition
Surface Finish
Case Depth
Microhardness (Knoop & Vickers)
Carburization / Decarburization
Weld Qualification
Our NDT technicians are certified to meet your industry requirements to ASNT SNT-TC-1A, NAS410, MIL-STD-2132 and Pratt & Whitney PWA-NDTQ.
Ultrasonic Testing
Hydrostatic Testing
Magnetic Particle Inspection
Liquid Penetrant Inspection
X-ray Inspection (Radiography)
---
Additional Services for "One-Stop" Convenience
We do our best to make every experience with LTI hassle-free. In addition to providing a wide-range of materials testing services, our one-stop laboratory also offers:
Test Specimen Preparation
Root-cause Failure Analysis
Calibration Services for all your needs (measuring tools, gauges, masters, torque wrenches, surface plates, on-site equipment and more)
You can count on quick, reliable service. Just leave the coordination to us.
Request a Quote or Contact Us for quick information and answers to your questions.