"Introducing Young People to NDT" Published in ME Magazine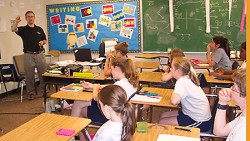 An article by Phillip W. Trach, non-destructive testing (NDT) employee and ultrasonic testing specialist at Laboratory Testing Inc., was published in the September 2015 issue of Materials Evaluation. The article, entitled "Introducing Young People to NDT", is featured in a special section on NDT Education and Training. It provides an overview of how to prepare, practice, and present an introductory lesson in NDT suitable for a school classroom.
With an aging population of non-destructive testing practitioners, and limited opportunity for school students to become exposed to a career in NDT, it becomes necessary to actively recruit and train young people to fill open positions as the current workers retire. There has been little to no training or education among school-aged children. Phil's article first explores the process of constructing a lesson plan, which not only explains what will be taught but why it is worthwhile for the students to learn about non-destructive testing. He also offers suggestions for presenting the lesson to students of various ages from his own experiences.
While preparing the lesson, Phil keeps the question, "Why is it important," as his theme throughout. Examples for possible lesson approaches he covers include:
Telling Stories
Demonstrations
First Principles
Coordination With the Existing Curriculum
As stated by Trach, "Demonstrations can be very effective, especially when the students can try the equipment for themselves." He also notes that you should have your lesson organized and be able to expand on your lesson with specific details.
Phil Trach is a 10-year veteran of LTI and holds a bachelor's degree in mechanical engineering. He is LTI's NDT Technical Coordinator and an Ultrasonic Testing Level III. In his position, Phil makes sure that LTI has the capabilities required to perform the tests customers need and that technicians are able to conduct the tests accurately and efficiently.
Non-destructive Testing is used to inspect material and component parts for flaws and inconsistencies without causing damage. Ultrasonic testing, magnetic particle inspection, liquid penetrant testing, X-ray inspection and hydrostatic pressure testing are performed at LTI. These test methods are available for inspecting tubing, pipes, bars, plates, castings, fasteners and other metal products, as well as some ceramics and plastics. LTI has the capability to inspect materials and parts in all shapes and sizes, as well as orders of almost any quantity while safely handling materials weighing up to three tons.