Laboratory Testing Inc. Sponsors ASM Materials Camp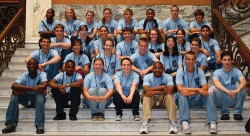 Laboratory Testing Inc. was a proud sponsor of the sixth annual Materials Camp held at Drexel University in June 2010. The Philadelphia Chapter of ASM coordinated this educational weeklong event for twenty eight high school students. Drexel's Department of Materials Science and Engineering provided classroom and "hands on" laboratory sessions covering materials such as metals, polymers, ceramics, composites, biomaterials and nanomaterials.
The camp also provided a group tour of the Boeing Rotorcraft facility to see the V-22 Osprey production line and witness demonstrations in the company's materials testing labs. Boeing engineers conducted a number of related classes following the tour.
Laboratory Testing Inc. is a sustaining member of the ASM Philadelphia Chapter and participates in many of the organization's events and programs. The materials testing and calibration laboratory has sponsored the Materials Camp for the past few years.