LTI Employee Receives ASTM Analytical Chemistry Committee Award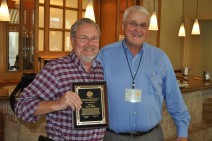 Lee Dilks, manager of the Chemistry and Metallography Labs at Laboratory Testing Inc., received an Award of Appreciation plaque from ASTM International. The award recognizes Dilks for displaying exemplary service in fulfilling duties as Secretary of two subcommittees, E01.08 and E01.20, under ASTM Committee E01 on Analytical Chemistry for Metals, Ores and Related Materials. The plaque was presented by Pat Cole from ATI Allvac, ASTM Committee E01 Chairman, on November 16, 2015 during ASTM's semi-annual Committee E01 meeting in Tampa, Florida.
ASTM International is an organization that provides a forum for developing and publishing globally-recognized standards for materials, services and more. The standards are maintained and developed through the efforts of volunteers who participate in ASTM technical committees. The committee volunteers come from many interest groups, including manufacturers, consumers, government and academia. ASTM Committee E01 was formed in 1990 and keeps track of all the methods of analysis published in the Book of ASTM Standards volumes 3.05 and 3.06.
Dilks was the secretary of Subcommittee E01.08, the committee on Ni and Co high temperature alloys, for the past two years, and secretary of Subcommittee E01.20 on Fundamental Practices for this past year. He has been an ASTM member for over ten years, and has helped develop and review several procedures for ASTM committee E01, in the above mentioned subcommittees and in the others to which he belongs:
E01.01 Iron, Steel, and Ferroalloys
E01.02 Ores, Concentrates, and Related Metallurgical Materials
E01.04 Aluminum and Magnesium
E01.05 Cu, Pb, Zn, Cd, Sn, Be, Precious Metals, their Alloys, and Related Metals
E01.06 Ti, Zr, W, Mo, Ta, Nb, Hf, Re
E01.22 Laboratory Quality
E01.91 Long Range Planning
As a materials testing lab, Laboratory Testing Inc. supports the ASTM organization with employee volunteers and develops testing procedures that conform to ASTM standards. The Lab is Nadcap and A2LA accredited and has a full-service Chemistry Lab with highly skilled chemists performing both instrumental and wet chemistry techniques. Expertise in element analysis, impurity identification, trace analysis, material identification, RoHs compliance testing, moisture analysis and more is offered. Dilks has been with LTI for over twenty-five years in positions of increasing responsibility in the Chemistry Lab, and recently also became manager of the Metallography Lab.
Ask about any of our chemistry services or request a quote today.