LTI Exhibiting at FabTech in Booth #N19071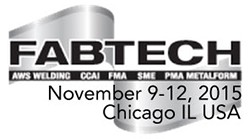 Laboratory Testing Inc. will be exhibiting at FabTech, North America's largest metal forming, fabricating, welding and finishing trade show, on November 9th – 12th. The event will be held at McCormick Place in Chicago, Illinois. Laboratory Testing, one of the leading materials testing labs in the USA, will be located in Booth #N19071 in the venue's North Hall, and the show's Welding section.
Testing Services Support Fabrication
LTI offers a wide range of testing capabilities to help manufacturers select materials, verify the effects of heat treatments, inspect samples from production runs and research failures. Fabricators also rely on the Laboratory's nondestructive and mechanical testing, chemistry, metallography, dimensional inspection and calibration services to confirm products and parts, and to ensure reliable output from measuring tools and instruments. Testing and inspection services help ensure that end users will purchase products that will operate at their optimal level and work effectively and efficiently over their expected life cycle.
Testing services are performed to meet industry standards, including ASTM, ASME, ANSI, AMS and MIL. Our credentials let you know you can count on quality, reliable results from LTI:
PRI Nadcap accreditation in materials and nondestructive testing
A2LA accreditation in materials testing, dimensional inspection and calibration services
ISO/IEC 17025 certification
"This is our ninth year as a show exhibitor. Since the show is so large with thousands of visitors, we always see many customers and know we'll meet many others who need testing and calibration services to keep their businesses running smoothly", said Mike Hiller, Director of New Business Development.
An Event You Won't Want to Miss
FabTech is co-located with the AWS Welding Show, MetalForm and others. The shows provide 'one stop' convenience for attendees to meet with suppliers, see the latest industry products and developments, find tools to improve productivity, and discover new solutions for metal forming, fabricating, welding and finishing needs. Job shops and manufacturers from varied industries attend the event, including military, aerospace, power generation, automotive, heavy equipment and more. Over 40,000 attendees and 1,500 exhibiting companies are anticipated, and the event also provides 100 educational sessions and presentations covering the latest trends and technology.
Plan to stop by Booth #N19071 in the venue's North Hall to find out more about testing and calibration for your company.