LTI Now Performs Accredited Electrical and Temperature Calibration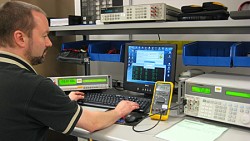 Laboratory Testing Inc. now offers Electrical and Temperature Calibration through the company's calibration laboratory, LTI Metrology. LTI calibration services verify accurate output from electrical instruments such as multimeters, clamp meters, calibrators and other items that generate and measure DC and AC voltage, DC and AC current, and DC resistance. Temperature-reading instruments such as thermometers, thermocouples and temperature recorders are calibrated using dry-wells and liquid-baths with temperature ranges from -45° C to 700° C. Temperature uniformity surveys are also performed on ovens and furnaces according to AMS2750D pyrometry requirements. Calibration services and uniformity surveys are imperative for ensuring accurate and consistent production and energy efficiency for manufacturers, heat treaters and other businesses that rely on electrical and temperature equipment.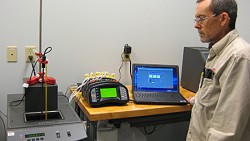 LTI Metrology recently received A2LA accreditation to perform electrical and temperature calibration services, and temperature uniformity surveys. Approval by the American Association for Laboratory Accreditation (A2LA) ensures conformance to International Standard ISO/IEC 17025, ISO 9001 and ISO 13485. All calibration performed at LTI Metrology is traceable to the National Institute of Standards and Technology (NIST).
Electrical and temperature calibration expand the suite of services originally offered by LTI Metrology for dimensional, pressure, torque, force, mass, and vacuum measuring instruments. All calibration services
are available at the Hatfield, PA location, outside of Philadelphia, and many instruments can be calibrated in the field. Services such as adjustments, mechanical repairs and part replacement are completed by LTI technicians as needed.