LTI Will Show Aerospace Materials Testing at AeroMat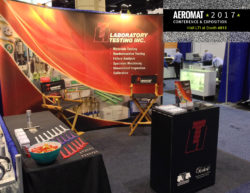 Laboratory Testing Inc. (LTI) is scheduled to exhibit in Booth #613 at the 28th AeroMat Conference and Exposition from April 10-12, 2017. As a leading provider of Aerospace Materials Testing services in the USA, LTI will be showcasing a full array of capabilities, including:
Microscopic and Macroscopic Examination
Fracture Mechanics
Mechanical Properties Testing
Chemical Analysis
Corrosion Testing
Specimen Machining
Non-Destructive Testing
CMM / Dimensional Inspection
Laboratory Testing is accredited by NADCAP and A2LA, and cetified to ISO/IEC 17025. The Lab has been audited by leading aerospace industry manufacturers and approved to provide Destructive Testing, Non-destructive Testing and Specimen Machining services to companies in their supply chains. This list of leading manufacturers includes Pratt & Whitney, Boeing, Agusta Aerospace, Airbus, Northrop Grumman, Bell Hellicopter, Rolls Royce, Eaton, GE Aviation, Gulfstream, Lockheed Martin, Sikorsky and more.
Materials Testing is required to ensure the quality of raw materials, fasteners and other parts that are produced and purchased for use in aircraft construction. Laboratory Testing Inc. prepares all test specimens and samples, performs the testing and provides certified test reports with documented test results.
"New material R&D and aircraft production remain very strong for the aerospace industry. LTI is proud to have a major role in ensuring their continued success by providing these companies with testing services that answer key questions about suitability, reliability and safety," said Mike Hiller, Director of New Business Development. Laboratory Testing Inc. is a full-service metals and alloys testing lab, but also provides some testing services for composites, polymers and ceramics.
The AeroMat Conference and Expo will be held as follows:

April 10-12, 2017
The Charleston Convention Center
Charleston, South Carolina
AeroMat is an ASM International event that includes an exposition of aerospace products and services from over 80 companies and organizations, as well as a conference with sessions presented by top leaders from the field of aerospace materials. The technical program will focus on innovative aerospace materials, fabrication and manufacturing methods that improve performance, durability and sustainability of aerospace structures and engines with reduced life-cycle costs.
Contact us to schedule a meeting while we're at the AeroMat Expo or stop by our Booth #613 during show hours.