Polymers
Polymer Testing to Verify Composition and Properties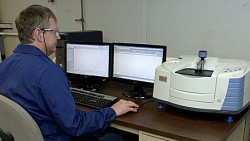 The technical experts at Laboratory Testing Inc. can perform polymer testing and analysis, including rubber and plastic testing, to answer questions about the characteristics of your material. Plastic testing and other polymer analysis will reveal information about material hardness, tensile strength, yield strength, ductility, chemical bonds, molecular structure and composition.
Our Lab near Philadelphia, PA (USA) can provide all of the necessary information for reliable material evaluation, selection and identification, so you can avoid problems and unnecessary costs associated with manufacturing errors or material failures.
Polymers Tested by LTI
Polymers such as plastics and elastomers play a large part in our everyday lives and are used in all types of manufacturing by many different industries. Plastics are a large and varied group of synthetic materials that are generally categorized as thermoset plastics or thermoplastics. The two categories are differentiated by the ability of thermoplastics to return to their original form when heated, while thermoset plastics cannot.
Elastomers are basically various types of rubber with the ability to be stretched significantly and return to their original shape without permanent deformation. Polymeric materials encompass a variety of familiar materials including PVC, PVB, polystyrene, polyethylene, polypropylene, neoprene, nylon, synthetic rubber, silicone, Bakelite and much more. LTI can support your business with reliable polymer testing processes for this range of materials.
Polymer Testing Services from LTI
Don't forget Calibration Services. LTI offers all the calibration services you'll need to ensure reliable output from gages, measuring hand tools, and other measuring instruments and equipment (pressure, torque, force, electrical, temperature, mass, vacuum) used in your production processes. Our team of field technicians also provides on-site calibration, adjustments and repairs for equipment such as surface plates, optical comparators, ovens and furnaces, hardness testers, scales and balances, temperature controllers and more.
Product reliability cannot be left to chance, so Contact us or go to the SERVICES and QUALITY pages on our website to learn more about our capabilities and accreditations.