Metrology & Calibration Services
Verifying Measurement: Ensuring Accuracy
At Laboratory Testing Inc., near Philadelphia, PA (USA), our Metrology Services cover both the Dimensional Inspection and Calibration Services performed in our metrology lab called LTI Metrology. These services are A2LA accredited to ISO 17025.
In its broadest sense, Metrology is the science of measurement and is concerned with standardization in measurement, calibration and inspection. During calibration service, the measurement values of tools and instruments are compared with a calibration standard of known accuracy. Dimensional inspection compares dimensions of product features with design specifications.
A Highly Qualified Metrology Lab
LTI Metrology is a highly qualified independent metrology laboratory that has provided fast, affordable and reliable dimensional inspection, measuring instrument calibration and on-site calibration services for nearly 30 years. All measurement results are NIST traceable, meaning they are tied to stated references of this national standard through an unbroken chain of comparisons. In addition, the traceability and uncertainty of measurements are validated through our accreditation process.
The responsive service and skilled technicians in the metrology lab also help make LTI a leader in so many areas. LTI employees know and understand this field, and they are dedicated to helping customers. The team of technicians has over 200 years of combined calibration experience.
For the most part, LTI Metrology specializes in industrial metrology services that are performed for B2B customers. Measuring tools, instruments and equipment used in production processes are calibrated to ensure the validity of measurement results. We also inspect our customers' fasteners and other machined parts with high-tech equipment to ensure their dimensions conform with design specifications.
Metrology Services at LTI Metrology
LTI Metrology's highly experienced technicians calibrate masters and all types of measuring instruments including: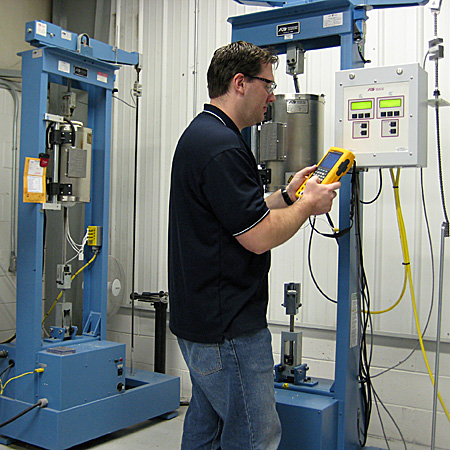 Calibration services can be performed at businesses in Pennsylvania, New Jersey and Delaware, as well as some areas of Maryland and New York on a wide-range of instruments and equipment including:
Surface plates
Optical comparators
Hardness testers
Compression and tension (tensile) machines
Balances and scales
Ovens and furnaces
Temperature controllers & readouts
Welders / Weld Mills
Hand tools & gauges
Mechanical repairs and adjustments are performed in our calibration laboratory and in the field. LTI Metrology can also provide replacement parts and new instruments from leading manufacturers.
Ask us to verify the dimensions of machined parts, fasteners and more. First article and third party inspection services are performed with CMM and Smartscope technology for timely, reliable and repeatable measurement.
More From LTI Metrology
Customers receive a detailed certified report following the completion of metrology services, which specifies our A2LA accreditation, NIST-traceable standards and all inspection or calibration results. When calibration services are performed, the certificate also lists "as found" and "as left" conditions and any adjustments or repairs made by our technicians.
The metrology lab is known for quick turnaround. To help ensure that you receive our best delivery, please use our Purchase Order Guidelines to provide all pertinent information with your order.
Contact us for pricing or to schedule any of our services:
Calibration Services
On-site Calibration
Repair Service
New Instruments
Dimensional Inspection Services
About Calibration
During calibration, technicians compare the performance output of a measuring tool or instrument with a measurement standard. Calibration services confirm that the item will produce results which meet or exceed that standard's criteria. Our professional calibration staff works with state-of-the-art calibration equipment in an environment-controlled laboratory, so you can count on precise results and quick turnaround.