Instrument Calibration
Don't Guess: Accurate Instruments Do the Job Correctly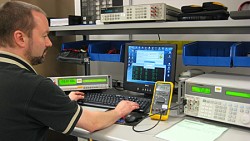 LTI Metrology is the calibration lab you can count on for fast, reliable and affordable instrument calibration services. Instrument calibration is a necessity when accurate measurement readings from tools and instruments is crucial for production of quality products. You and your customers can't afford the risk of measurement error.
Many factors can send measuring tools, instruments and masters out of tolerance, including environmental conditions, time and excessive use.
Why Choose LTI Metrology
To make it easy on you, instrument calibration can be performed at our calibration lab near Philadelphia, PA (USA) or onsite at your facility (in PA, NJ, DE, MD, NY). LTI Metrology is a division of Laboratory Testing Inc., a leader in materials testing since 1984.
Everything you need with our instrument calibration for reliable verification of the measurement accuracy of your tools and equipment:
NIST-traceable standards
A2LA accredited and ISO 17025 calibration
Technicians with over 200 years of combined calibration experience
Top of the line equipment
Adjustments and repairs can be made as needed
"As Received" data is logged for all instruments based on predetermined test points. Any adjustments made during calibration are recorded as "As Left" data.  Both are reported on the Calibration Certificate along with the calibration results.
Instrument Calibration Capabilities
LTI Metrology provides calibration services for a wide-range of instruments in each of the categories below:
Many types of equipment such as surface plates, ovens, testing machines and hardness testers are calibrated in the field by our highly trained field technicians. Scheduling is fast and convenient by contacting the team directly at fieldcal@labtesting.com. For a list of instrument calibration services performed in the field, visit our On-site Calibration page.
More About Our Qualifications
The equipment in our calibration lab for dimensional calibration, linear inspection and verification of instrument readings provides an extensive range of capabilities not available at many other calibration companies:
Torque calibration from 0 to 2,000 ft. lbs.
Pressure calibration to 40,000 PSI.
Length standards up to 120 in.
Gage blocks up to 20 in.
Surface plates up to 14 ft. diagonal
LTI Metrology calibrates threaded ring gages and has an inventory of over 750 master set plugs. If you don't have the one needed to calibrate your ring gages and we don't have it in inventory, we can help you purchase the proper set plug through our relationship with manufacturers. Refer to Calibration Set Plugs for our inventory of master set plugs.
Here are more resources for an easy calibration experience:
Occasionally, a customer has a flow instrument that we do not calibrate inhouse, so we are happy to coordinate the order with one of our approved vendors. To save time on orders that require an outside vendor, please include a note on your purchase order giving us permission to subcontract.
See additional pages about our specific calibration services or request a quote today.