Pressure Calibration
Barometer, Manometer, Pressure Gage Calibration and More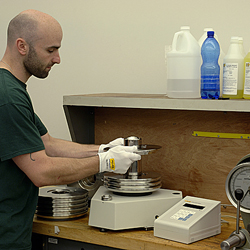 Routine pressure calibration will help ensure the accuracy and precision of your pressure instruments. LTI Metrology performs pressure calibration to 40,000 PSI, including barometer calibration, manometer and pressure transducer calibration, dead weight tester and pressure gauge calibration.
With every pressure calibration we perform, our customers receive a Calibration Certificate with all the information they need, including:
Instrument condition
NIST traceability
A2LA accreditation to ISO/IEC 17025
Calibration results
Repairs and adjustments, if applicable
Working with reliable instruments is essential for efficiency, quality and safety. Let our lab keep all your instruments in top condition.
LTI Metrology Capabilities
Barometer Calibration
Compound Pressure / Vacuum Gage
Dead Weight Tester
Density Meter Calibration
Differential Pressure Gauge Calibration
Manometer Calibration
Pressure Calibrator
Pressure Gage Calibration

Accuracy from 2% to 0.1% or better
To 40,000 PSI

Pressure Recorder
Pressure Transducer Calibration

With or Without Readout
To 40,000 PSI
LTI calibrates many pressure measuring instruments on-site up to 600 PSI. If your facility has a pressure source, we can go up to 1,500 PSI.
The Pressure Calibration Process
Computerized pressure modules with capacities from vacuum to 40,000 PSI are used to perform pressure calibration and record the readings. Based on the measurement range of the instrument undergoing calibration, one of LTI's six pressure modules will be selected for the inspection. It is customary to exercise the instrument to its full capacity three times before beginning calibration. As with most calibrations, a standard with a known value or capacity is compared to the instrument being calibrated during the pressure calibration process. Most instruments undergo a 5 point pressure calibration, whereby the inspection occurs at every 20 percent of capacity. A higher accuracy pressure transducer or pressure gage calibration will include 10 inspection points at every 10 percent of capacity.
More Than Calibration
LTI Metrology is the calibration lab at Laboratory Testing Inc., located in Hatfield, Pennsylvania (USA) just outside of the Philadelphia, PA area. Expedited service is available when you need your calibration results quicker than our standard turnaround. For convenience, we can arrange order pick-up and delivery services for customers local to our facility.
Pressure calibration is just one of the many calibration services provided by our one-stop calibration laboratory. For a detailed look at our calibration capabilities, refer to our list of Calibration Services & Instruments Calibrated under Resources.