On-Site Calibration
Service at Your Facility: We Come to You
On-site calibration or field calibration is often performed on equipment that is too large or fragile to be shipped to us, or that cannot be taken out of service for a few days at a time. You'll enjoy the flexibility on-site calibration services offer to meet your scheduling needs and minimize production downtime.
LTI Metrology is located near Philadelphia, PA (USA) and on-site calibration is provided in PA, NJ, DE, MD, NY and some areas beyond.
Reliable On-site Service
Rely on the highly trained and experienced field technicians from LTI Metrology to:
Quickly calibrate your equipment
Make repairs and adjustments. as needed
Leave you with reliable results that will be documented in Calibration Certificates
For convenience, you can arrange for service directly with our field calibration team at fieldcal@labtesting.com.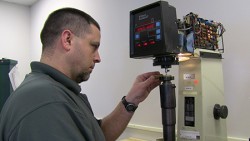 Customers receive the same high quality service with our onsite calibration that we provide in our environmentally-controlled lab:
A2LA accreditation
NIST traceability
Calibration to ASTM E4
Online access to our web portal for order status and electronic copies of your Calibration Certificates
Our Quality Assurance System complies with the applicable requirements of all specifications listed below. Comprehensive Calibration Certificates are provided for each instrument listing "as found" and "as left" conditions, as well as details of all work performed. If needed, we can provide a preliminary certificate before our technician leaves your facility, so there is no wait for results.
For your peace of mind, all of our calibration experts are covered by workers compensation insurance. All vehicles and service personnel are fully insured for liability to perform on-site calibration service at your facility.
Onsite Calibration Capabilities
The field calibration technicians at LTI Metrology offer on-site calibration services for the following wide-range of equipment right at your facility:
Measuring Tools & Gage Calibration
Laser / Super Micrometers
Timers
Surface Plates
Optical Comparators
Microscopes
Hardness Testers
Compression Testing Machines
Scales & Balances
Pyrometry
Temperature Controllers
Ovens & Furnaces

Uniformity Surveys
System Accuracy Tests

Recorders (Temperature, Digital, Chart)
Pressure Instruments

To 600 PSI (If customer supplies a pressure source, we can go up to 1,500 PSI)

Load Cells / Load Frames (ASTM E4)
Welders / Weld Mills
Contact our Field Coordinator at 215-997-9103 or fieldcal@labtesting.com to request a quote or schedule on-site calibration services.
Quality Specifications
ANSI/ISO/IEC 17025
ANSI/NCSL Z540-1
ISO 9001-2000
ISO 10012-1
ASME Section III NCA-3800
10 CFR 50 Appendix B
10 CFR Part 21
AC7004
AC7114
Contact us for a quote or to schedule service at your facility.