Oven Calibration
Temperature Uniformity Survey, System Accuracy Test and More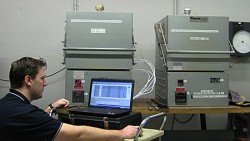 Furnace and oven calibration is imperative for ensuring accurate and consistent production and energy efficiency. This service is a necessity for manufacturers, heat treaters and other businesses that rely on furnace or oven output in daily operations.
A complete oven calibration is generally performed to calibrate oven temperature and verify the devices that control and monitor oven temperature.
LTI Metrology near Philadelphia, PA (USA) provides the full array of oven calibration services. These services are performed according to Nadcap and AMS 2750D pyrometry requirements on site throughout PA, NJ, DE and beyond:
Temperature Uniformity Survey
System Accuracy Test
Temperature Controller Calibration
Calibration to Meet AMS 2750D & Nadcap Requirements
Furnace calibration to strict requirements is a necessity for heat treatment suppliers to the aerospace industry. Pyrometry requirements per specification AMS 2750D mandate the calibration process for temperature sensors, instrumentation, thermal processing equipment, system accuracy tests and temperature uniformity surveys for ovens and furnaces used in the global aerospace and commercial heat treating industries. LTI oven and furnace calibration procedures will meet specification requirements for heat treaters and laboratories pursuing Nadcap accreditation.
Full-Service Lab, A2LA accredited and NIST traceable
LTI technicians are qualified to perform a temperature uniformity survey on many types of furnaces and ovens, including curing and drying ovens, batch furnaces and tooling furnaces. We also calibrate temperature controllers and readouts for any application.
When scheduling service, keep in mind that our field technicians can also calibrate surface plates, optical comparators, balances, hardness testers, microscopes and many other measuring instruments. On-site calibration services performed by LTI Metrology are A2LA accredited and NIST traceable.
LTI Metrology Capabilities
Pyrometry
Temperature Uniformity Survey
System Accuracy Test
Temperature Controller Calibration
Calibration to AMS 2750D pyrometry and Nadcap requirements
The Pyrometry Processes
During a temperature uniformity survey, the field technician will calibrate your oven to verify temperature consistency throughout the oven. Thermocouples are arranged in specific locations within the oven and a temperature reading from each probe is charted over time to confirm consistency. Most ovens and furnaces have their own temperature probe or thermometer to monitor and display the internal temperature. A system accuracy test will verify that the thermometer is displaying the oven temperature accurately. Temperature controllers regulate the oven temperature and are calibrated to ensure that the setting matches the actual temperature within the oven.