Surface Plate Calibration
Maintaining Granite Surface Plates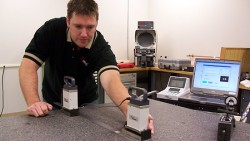 Surface Plate Calibration is the only sure way to know that you are working with a level surface and can expect accurate workmanship when the surface plate is in use. Surface plates wear over time and must be properly maintained to ensure flatness and continued precision measurement.
Fast, Dependable Surface Plate  Calibration
LTI Metrology provides thorough granite surface plate calibration for plates up to 14 ft. diagonal in our lab or on site throughout Pennsylvania, New Jersey, Delaware and some surrounding areas in the USA mid-Atlantic region. The metrology lab is located within the Hatfield, PA facility of Laboratory Testing Inc.
Highly skilled technicians measure surface plate wear with a computerized calibration system using differential leveling feet. This system performs reliable surface evaluation and creates detailed diagrams showing measurement readings that clearly explain wear and deviation from the grade accuracy specification.
LTI's fast and dependable services include cleaning before measurement and a light polishing after surface plate calibration is complete. When needed, lapping or resurfacing of granite plates is provided to bring measurements within grade guidelines. This procedure involves polishing the surface with an abrasive paste to remove all unwanted material. Our field service technicians have the ability to resurface plates to any grade needed by your quality system.
Surface plate calibration services performed by LTI Metrology are A2LA accredited and the equipment used by our technicians has a NIST-traceable calibration. A Calibration Certificate is generated following service that will show grade requirements, "as found" and "as left" conditions and a detailed explanation of the work completed to restore flatness. We will send you a reminder notice when it is time for recalibration, based on the frequency you set.
Measurement during surface plate calibration includes checking for wear and deviation from the grade requirements. In many cases, proper resurfacing can bring the surface of the plate back within flatness tolerances. Flatness tolerances for standard grade surface plates AA, A and B are defined in federal specification GGG-P-463c.
Contact our Field Coordinator at 215-997-9103 or fieldcal@labtesting.com for a quote or to schedule surface plate calibration services.
Caring For Your Surface Plate
Regular cleaning and covering when not in use will help protect your surface plate. Calibration should be performed routinely to maintain the proper flatness and ensure measurement accuracy over time. When the interval between each surface plate calibration is not dictated by a company's quality requirements, it should be based on frequency of use and the condition of the environment where the surface plate is located. Light usage and a clean environment will generally allow for longer intervals between each calibration.
LTI Metrology Capabilities
Calibration of granite surface plates up to 14 ft. diagonal
On-site calibration in PA, NJ, DE and beyond
Service includes resurfacing, cleaning, light polishing and repair, when needed
Detailed diagrams with measurements explaining deviation from grade specifications are provided
The Surface Plate Calibration Process
The field team at LTI Metrology provides on-site granite surface plate calibration and resurfacing. During calibration, our technicians will measure both surface flatness and repeatability by taking measurements in locations across the surface.
Flatness is measured using points on the surface contained within two parallel planes, the base plane and the roof plane. The measurement of distance between the planes is the overall flatness of the surface. The flatness measurement commonly carries a tolerance and may include a grade designation. These reading will be used to determine deviation from the guidelines set for the grade of surface plate.
Repeatability is verified by measuring various local flatness areas across the surface to help guarantee that a measurement taken anywhere on the surface of a plate will repeat within the stated tolerance.
Both flatness and repeatability readings are critical steps in granite surface plate calibration to insure a precision surface that provides accurate measurement. Once low areas are identified, we will resurface the plate to restore flatness.
Let Us Provide All Your Calibration
While our field team is at your site, they can also calibrate measuring hand tools and equipment including optical comparators, hardness testers, ovens and furnaces, scales and more. Service for many additional instruments is performed in our environmentally-controlled laboratory in the Philadelphia PA (USA) area.