Temperature Controller Calibration
Including Temperature Sensor Calibration for Complete Verification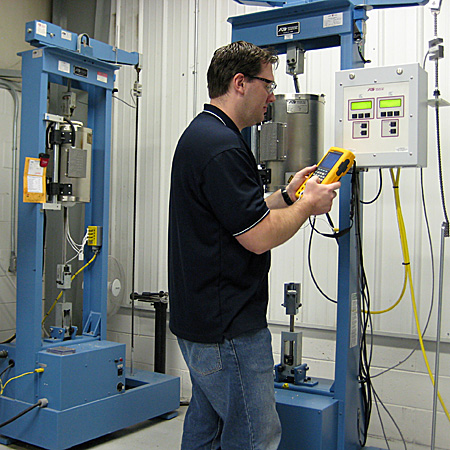 Temperature Sensor Calibration and Temperature Controller Calibration services will confirm that your equipment is operating accurately and consistently over time. It's important that these devices maintain a constant temperature or adequately control temperature, especially in equipment that requires minimal operator involvement or is exposed to periods of extreme temperatures and frequent thermal cycling.
Sensor and controller calibration verifies the accuracy of the device's measured output to the expected output as stated by the manufacturer's specifications or other requirements.
Calibration is Our Specialty
LTI Metrology, near Philadelphia, PA, (USA), can perform temperature controller and sensor calibration to verify that the components of your system work properly and reliably. The services are A2LA accredited to ISO/IEC 17025 and results are NIST traceable.
Our field technicians can calibrate these and other instruments on site in Pennsylvania, New Jersey, Delaware and some areas beyond. We'll calibrate temperature controllers and sensors for any application, including ovens and furnaces, stress rupture machines, injection molding equipment, etc. LTI Metrology's technicians are qualified to make any adjustments necessary to bring these instruments back to an acceptable accuracy.
We want to make calibration convenient for you. It's easy to schedule on-site service by contacting the Field Coordinator directly at fieldcal@labtesting.com or  215-997-9103. Service is fast and reliable, and your Calibration Certificate will explain our process and results in detail. Tell us how often your device should be calibrated so we can send you a reminder notice as the date comes near.
LTI Metrology Capabilities
Temperature controller calibration

On-off, proportional and PID
Digital, analog and chart recording models

Temperature sensor calibration
Temperature calibration for additional instruments

Recorders, regulators, readouts, baths
The Temperature Controller Calibration Process
A precision temperature controller uses a current or voltage source to drive power through actuators based on input from a temperature sensor such as a thermocouple or RTD. The controller compares the actual temperature to the desired control temperature, or setpoint, and provides output to a connected control element such as a heater or fan to maintain the desired temperature. When performing temperature controller calibration, LTI technicians will verify measurement readings from the device by simulating a millivolt signal with the correct cold junction compensation, including any thermocouple such as K, T, J and others for their entire range of functionality.
Get in touch with our field calibration team today to schedule a service call. Also ask about the other calibration services we can perform while at your facility.