Customer Approved Vendor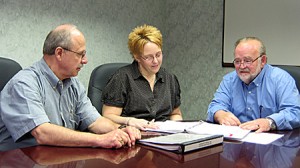 Laboratory Testing Inc.'s technical expertise, compliance and commitment to quality are demonstrated consistently during accreditation assessments and customer audits.
Accredited by both A2LA and the Performance Review Institute's Nadcap program for over twenty years.
Successfully audited by the Nuclear Procurement Issues Committee (NUPIC) and the Nuclear Industry Assessment Committee (NIAC), as well as many nuclear customers as a Material Organization in compliance with ASME Section III, NCA3800, 10CFR50 Appendix B and 10CFR21.
On approved supplier list of hundreds of customers and prime contractors; many are listed below.
Company and Agency Approvals
LTI is on the approved vendor list of many companies and agencies, including the following. Contact Us to find out if the Lab is also approved by other companies of interest.
| | |
| --- | --- |
| Company/Agency | Approved Services |
| A2LA | Chemical, Mechanical, Calibration |
| Aecon Group | Calibration |
| Aerofin | Materials Testing, NDT, Calibration |
| Aerojet Rocketdyne | NDT |
| Agusta | NDT |
| Airbus | Materials Testing |
| B & G Manufacturing | Materials Testing, NDT, Calibration |
| Bell Helicopter Textron | Materials Testing, NDT |
| Boeing Company | Materials Testing, NDT |
| Chem Pump | Materials Testing, NDT, Calibration |
| Consolidated Power | Materials Testing, NDT, Calibration |
| Crane Nuclear | Materials Testing, NDT, Calibration |
| Custom Alloy | Materials Testing, NDT, Calibration |
| DuBose NES | Materials Testing, NDT, Calibrationm |
| Duke Energy | Materials Testing, NDT, Calibration |
| Eaton Corporation | Materials Testing, NDT, Calibration |
| Effort Foundry | Materials Testing, NDT, Calibration |
| Energy and Process | Materials Testing, NDT, Calibration |
| Exxon Mobil | Materials Testing |
| GE Aviation | S-400 Materials Testing, NDT |
| General Dynamics Electric Boat | NDT |
| GKN Aerospace (Volvo Aero) | Materials Testing |
| Gulfstream Aerospace | Materials Testing |
| Hamilton Sundstrand (UTC Aerospace) | NDT |
| Hartford Steam Boiler | Materials Testing |
| Honeywell FM&T | NDT |
| ITT Engineered Valves | Materials Testing, NDT, Calibration |
| James C. White Company | Materials Testing, NDT, Calibration |
| Lincoln Structural Solutions | Materials Testing, NDT, Calibration |
| Lockheed Martin | NDT, Calibration |
| Nadcap | Materials Testing, NDT |
| Newport News Industrial | Materials Testing |
| NIAC (audited by Crane Nuclear) | Materials Testing, NDT, Calibration |
| Northrop Grumman Electronics | Materials Testing, NDT |
| NUPIC (audited by Exelon Generation Corp) | Materials Testing, NDT, Calibration |
| Post Precision | Materials Testing, NDT |
| Pratt & Whitney | Materials Testing, NDT |
| Rolls Royce | Materials Testing |
| Sikorsky Aircraft | Materials Testing, NDT |
| Super Radiator Coil | Materials Testing, NDT, Calibration |
| Taylor Forge | Materials Testing, NDT, Calibration |
| Tech Cast | Materials Testing, NDT, Calibration |
| Tioga Pipe | Materials Testing, NDT, Calibration |
| Westinghouse | Materials Testing, NDT, Calibration |
| Weir Power & Industrial France | NDT |
| WFI | Materials Testing, NDT, Calibration |