X-ray Inspection
Lets You Know What's Inside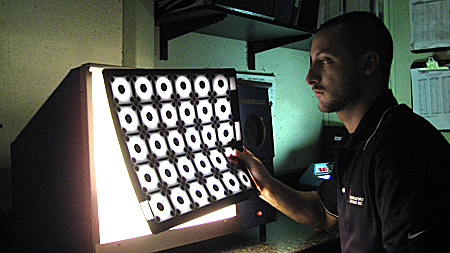 Industrial Radiographic Testing (RT) or X-ray Inspection, uses highly penetrating X-rays to create a permanent visible film record or digital image of a material's internal condition without damaging the item. The process provides basic information to determine the soundness of the material and is used for the following purposes:
Locate internal discontinuities such as shrinkage, cracking and porosity in products and parts
Verify the integrity of internal components
Determine the quality of welds
The need for X-ray Inspection services can occur during product research and development, as part of the manufacturing, fabrication or installation process or when the product is purchased for future use.
Industrial Radiographic Testing at LTI
At LTI, our NDT certified technicians perform nearly all X-ray inspection in our large-capacity 20 ft. x 20 ft. radiography vault, but also work with a cabinet camera for small products. Customers send materials in a wide-range of shapes and sizes for X-ray inspection, including castings, weldments, machined parts and electronic components. Our high-capacity forklifts and cranes safely handle materials weighing up to three tons and our X-ray equipment can penetrate up to a few inches of steel. For products outside of this scope, we can subcontract your order to one of our approved vendors.
All industrial radiographic testing results are evaluated by our certified NDT Level II and Level III technicians and customers receive the details of all findings in their Certified Test Reports.