Materials Testing
Ensure Your Materials Perform as Expected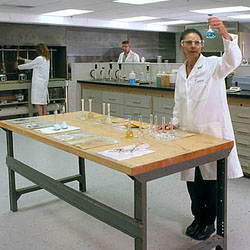 Materials testing helps our customers make prudent business decisions about their products and processes, and meet quality and regulatory requirements. Our specialty is Metals and Alloys, but Laboratory Testing Inc. also offers some material testing services for polymers and ceramics.
Material testing is often required to ensure that products and their component parts can perform for their intended use and endure for their expected life. These test services also provide information that is useful in investigating the root cause of failures.
Accredited Materials Testing Lab
LTI is one of the largest independent material testing labs in the USA. We are equipped and accredited to test and analyze a wide-range of specimens and products for many applications and industries. Even extremely large materials, and the smallest samples can be tested or analyzed using the latest technology and state-of-the-art computerized equipment.
Qualifications to Meet your Quality Requirements:
Accredited by A2LA and PRI Nadcap
ISO/IEC 17025 certified
Quality system complies with ISO 9001 and ISO 13485
Testing procedures conform to ASTM, ASME, ANSI, AMS and MIL standards and specifications
Pressure Equipment Directive (PED) approved based on ISO 17025 certification
Full-service Convenience
Laboratory Testing Inc. is the full-service material testing lab you can rely on for your information, answers and certified test reports. Our list of services includes:
Chemical analysis
Mechanical testing
Metallurgical testing
Corrosion testing
RoHS testing
Heat treat capability testing
Material testing typically involves destructive methods of testing, but LTI also performs many types of Nondestructive Testing to provide information and answers when materials and products cannot be damaged.
There's no need to ship your material to various laboratories – sample preparation, specimen machining and all material testing services are completed at our single location. LTI's team of engineers, chemists, technicians and support staff work to ensure customer convenience and processing efficiency to minimize turnaround time. If you need Expedited Service, Same Day, Next Day and 2nd Day turnaround are available.
Test Results with the Information You Need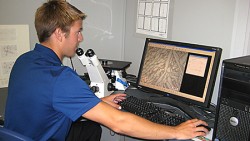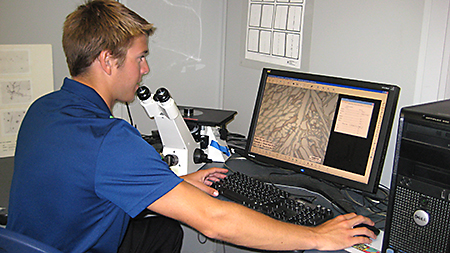 As your materials testing laboratory, LTI can help you with selecting and verifying materials, trouble-shooting production problems, investigating product failures and meeting customer or industry requirements for material certification. We have material testing services to give you all the information you need about your materials and products:
Material composition and identification; trace element analysis
Verification of mechanical properties
Evaluation of microscopic product features
Detection of flaws and discontinuities
Susceptibility to corrosion
Helping to make our customers' jobs easier is of utmost importance to Laboratory Testing Inc. One way we do this is to provide easy access to information. If you can't find what you need on our website, our sales reps and technical experts are available to answer questions about testing methods and requirements.
Services performed in our materials testing laboratory:
Chemical analysis services include qualitative and quantitative analyses performed by instrumental and classical wet chemistry methods to determine material composition and elemental content, including trace elements. LTI performs analytical chemistry on metals, plastics, powdered metals, ores, ferroalloys, composites and ceramics. LTI's Chemical analysis lab also provides moisture analysis and RoHS Testing.
A variety of corrosion testing is performed at LTI to help customers select materials, treatments and manufacturing processes and determine the impact of environmental conditions on their products. Corrosion testing is performed in accordance with ASTM practices.
Mechanical testing measures the strength and ductility of materials under various conditions, such as temperature, tension, compression and load. LTI performs the testing and can prepare test specimens for all types of mechanical testing including proof load, stress rupture, charpy impact, yield, bend, hardness, fracture toughness and much more.
Heat treat capability testing is also offered to verify upgrade, using our on-site furnaces to treat your material.
Metallurgical testing at LTI includes microhardness testing and microscopic and macroscopic examinations to evaluate surface and internal features, defects and material characteristics. Samples for all metallurgical testing are prepared at our laboratory.
News & Articles
New Microhardness Testing Capabilities
SEM/EDS Added for Testing and Failure Analysis