Chemical Analysis
Know What You've Got: Inside and Out
Laboratory Testing Inc. offers Chemical Analysis expertise with a fully equipped lab to carry out tests of most elements in the periodic table. Analytical Chemistry is also offered for impurity identification, trace analysis, material identification, moisture analysis and determining chemical composition. The specialists in our chemical analysis lab near Philadelphia, PA (USA) are fully qualified to analyze samples for a wide-range of industries and in accordance with ASTM and other required methods.
Materials Analyzed
Metals
Alloys
Ores
Composites

Powdered metals
Ferroalloys
Plastics / Polymers
Ceramics
Our routine and investigative chemical analysis services can support material selection, material verification, failure analysis research and more. A wide-array of instrumental and wet analytical chemistry techniques are utilized to provide customers with information, answers and qualitative and quantitative results. State-of-the-art instrumentation performs multi-element trace analysis and parts-per-trillion trace analysis.
Lab Qualifications
Most customers work in a fast-paced environment and appreciate the convenience and dependability they get from LTI – technical expertise, competitive pricing, fast turnaround and reliable test results. LTI is qualified to meet your quality requirements, including:
NADCAP and A2LA Accreditations
Testing to industry Standards and Specifications
PED Approval by Lloyd's Register
Array of Chemical Analysis Services
Laboratory Testing services are performed to meet your specific objectives. LTI chemists welcome the opportunity to process orders with limited sample weight or with specialized requirements. Our chemical analysis labs can apply many analytical testing methods to get the exact information you need about your materials:
ICP Atomic Emission Spectroscopy (ICP-AES)
ICP Mass Spectroscopy (ICP-MS)
Energy Dispersive X-ray Spectrometry (SEM/EDS)
Atomic Emission Spectroscopy (AES)
Fourier Transform Infrared Spectroscopy (FTIR)
Carbon/Sulfur/Nitrogen/Oxygen/Hydrogen Determination
Positive Material Identification (PMI)
Soxhlet Extraction
Plating Identification
Density, Porosity & Oil Content
Classical Wet Chemistry
Moisture Analysis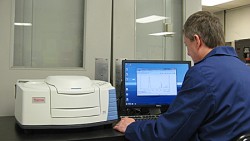 Let us know about your specific needs and we can help you select the best method from the available chemical analysis services.
Additional Services
Our chemical analysis lab also performs corrosion testing on metals to determine susceptibility to corrosion and the impact of various environmental conditions.
The Restriction of Hazardous Substances Directive or RoHS restricts the use of hazardous substances in electrical and electronic components or equipment sold or used in the European Union. Laboratory Testing provides the necessary chemical analysis services to help assure compliance with RoHS and documents all results in a Certified Test Report.
To ensure efficient order processing, read about "Providing Samples for Analytical Testing" or ask us about the required sample size.