ICP Analysis
ICP-AES & ICP-MS Methods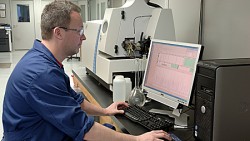 ICP Analysis, also called ICP Testing, is performed at Laboratory Testing Inc. to identify and measure up to 70 elements necessary for the analysis of metal samples. ICP-MS Analysis and ICP-AES Analysis methods are offered.
Both ICP test methods can be performed on solid or liquid samples and offer the following capabilities:
Calculation of quantitative and qualitative data
Determination of a range of metals and several non-metals
Detection and identification of trace unknowns
Latest Technology for Major, Minor and Trace Element Analysis
LTI provides two ICP metal analysis processes using the latest technology in spectrometers at our United States facility in the Philadelphia, PA area:
ICP AES Analysis

ICP Atomic Emission Spectroscopy (ICP-AES) is a technique that can determine concentrations of trace to major elements and can detect most elements in the periodic table. Reliable results can be obtained for about 70 elements with detection limits in the parts per billion range.
ICP MS Analysis
ICP Mass Spectrometry (ICP-MS) is highly sensitive and capable of multi-element trace analysis and ultra trace analysis, often at the parts-per-trillion level. Testing for trace elements can be performed on a range of materials from super alloys to high purity materials.
Test Methods/Specifications
ASTM E1613
MIL Specifications
Elements Analyzed During an ICP Test Scan
Aluminum
Antimony
Arsenic
Barium
Beryllium
Boron
Cadmium
Calcium
Cerium
Cesium
Chromium
Cobalt
Copper
Dysprosium
Erbium
Europium
Gadolinium
Gallium
Germanium
Gold
Hafnium
Holmium
Indium
Iridium
Iron
Lanthanum
Lead
Lithium
Lutetium
Magnesium
Manganese
Mercury
Molybdenum
Neodymium
Nickel
Niobium
Osmium
Palladium
Phosphorus
Platinum
Polonium
Potassium
Praseodymium
Rhenium
Rhodium
Rubidium
Ruthenium
Samarium
Scandium
Selenium
Silicon
Silver
Sodium
Strontium
Sulfur
Tantalum
Technetium
Tellurium
Thallium
Thorium
Thulium
Tin
Titanium
Tungsten
Uranium
Vanadium
Ytterbium
Yttrium
Zinc
Zirconium
The only elements which cannot be measured by ICP methods are C, H, O, N and the halogens.
Contact our team to discuss your sample and testing requirements.
The ICP Test Processes
ICP analysis is performed at LTI with computer-controlled spectrometers. Computer software controls and monitors the instrument functions and also processes, stores and outputs the results of the ICP test as it is performed. The spectrometers use Charge Coupled Device (CCD) technology which allows the instruments to measure the broad spectrum of elements.
ICP metal testing can be performed on solid and liquid samples, but a solid sample must be converted to liquid form before testing by dissolving the sample in a solvent (typically acid) to produce a solution. The sample solution is introduced into the ICP as a fine aerosol of droplets. The aerosol is produced by a nebulizer which aspirates the sample with high velocity argon to form a fine mist.
The aerosol then passes into a spray chamber where larger droplets are removed. Droplets small enough to be vaporized in the plasma torch pass into the torch body, where the aerosol is mixed with more argon gas. ICP stands for Inductively Coupled Plasma, which is an excitation source generated by directing the energy of a radio frequency generator into a suitable gas. A coupling coil is used to transmit radio frequency to the heated argon gas, producing an argon plasma located in the torch. The hot plasma dries any remaining solvent and causes sample atomization.
The ICP-AES spectrometer detects the atomic emissions produced as light. With ICP Mass Spectrometry, the process uses ionization. The resulting mass of the ions indicates the elements present in the sample.
LTI Capabilities
ICP-MS Analysis and ICP-AES Analysis methods
Detection of chemical elements
Quantitative elemental composition
Trace analysis
Ask us about our analytical chemistry services for your samples, specifications and information requirements.